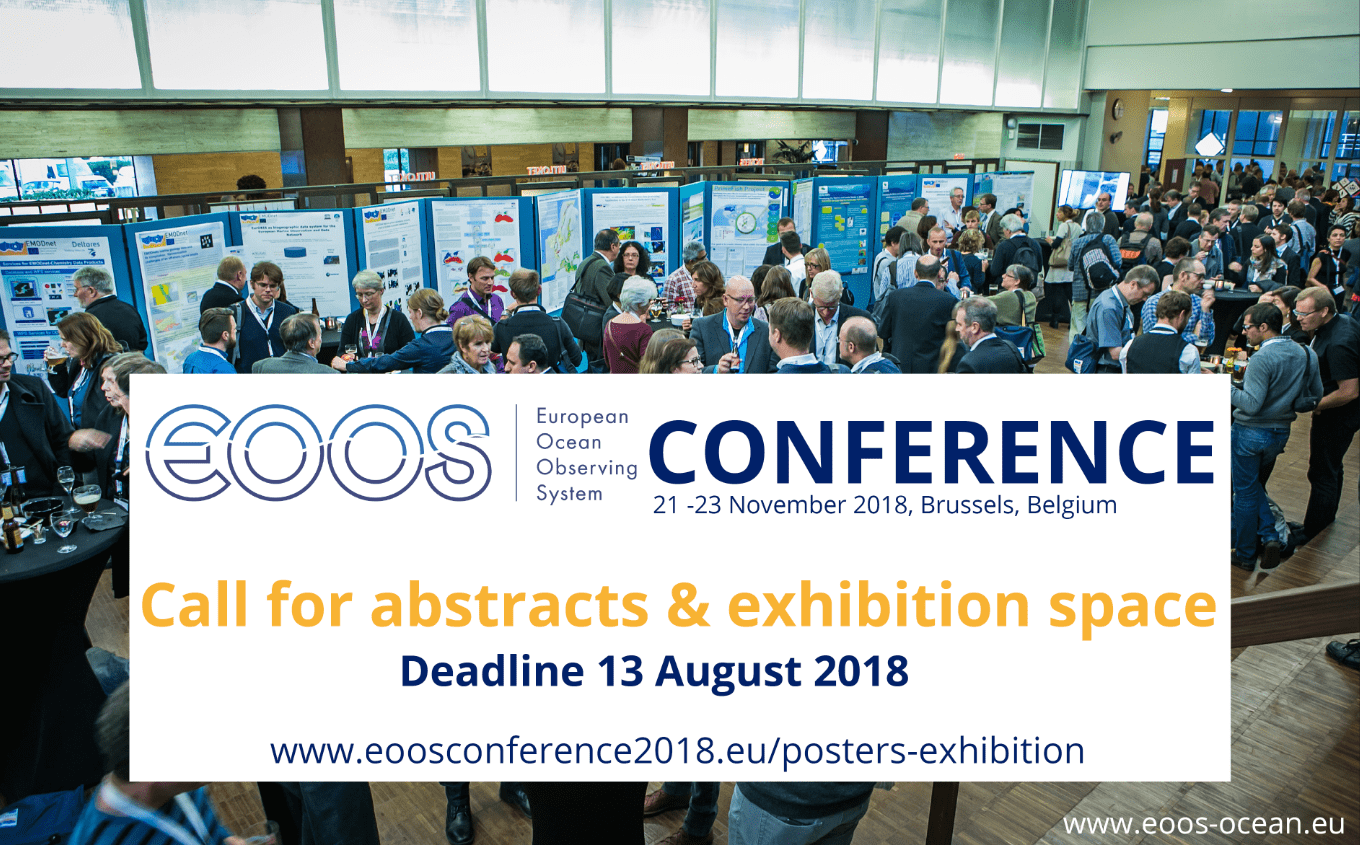 The first EOOS Conference will take place from the 21 to the 23 November 2018 in Brussels, Belgium.
This event will bring together and connect diverse ocean observing stakeholder communities to discuss the future of a European Ocean Observation System (EOOS). It is an opportunity to showcase your work, network with stakeholders across Europe and help shape EOOS.
Call for poster abstracts
We welcome your abstract submissions for posters, which include a 1-minute pitching opportunity for each poster presenter. Abstracts must be relevant to the themes of the EOOS Conference 2018.
Submit your abstract here.
Exhibition space
An exhibition space will be made available for participants wishing to showcase key initiatives, research and development, products and services related to ocean observation and monitoring. Places are limited and tables need to be reserved in advance.
Reservation can also be made for a limited number of meeting rooms available at the venue on Friday 23 November 2018 from 14:00 till 17:30 with a capacity ranging from 6 to 20 persons. 
Please note that these initiatives are free of charge. All applications should be submitted via our submission forms.
Important dates
Deadline to apply: 13 August 2018
Notification on acceptance: 21 September 2018
Deadline for registration to the EOOS conference: 1 November 2018
EOOS Conference: 21-23 November 2018
More information about the EOOS Conference: www.EOOSConference2018.eu
Don't hesitate to share this event with your network. Thank you!
The EOOS Conference 2018 is organised by the Secretariats of EMODnet, the European Marine Board and EuroGOOS, with the financial support of the European Commission.