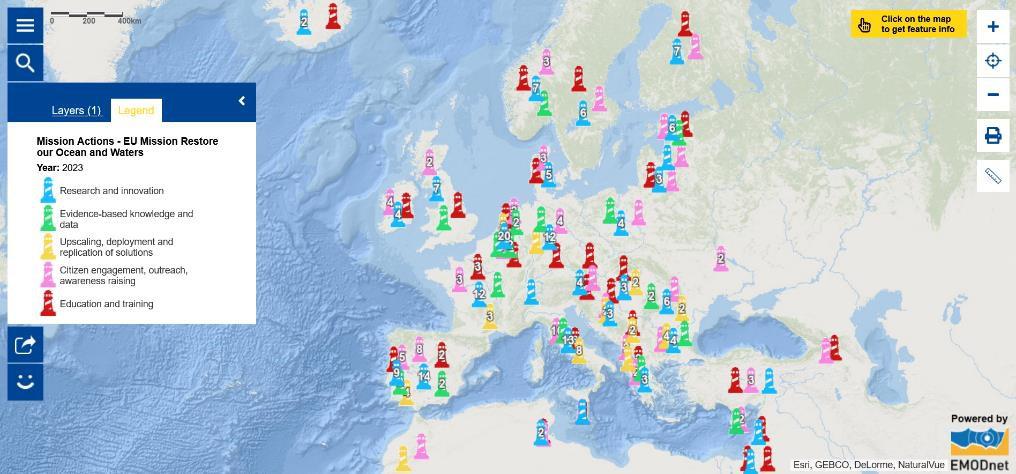 On 17 February 2023, the first Annual Forum of the European Union (EU) Mission "Restore our Ocean and Waters by 2030" brought together stakeholders in Brussels and online to take stock of the first year of implementation of the Mission, showcasing the first portfolio of projects and actions to achieve the Mission's objectives. The event focused on the commitments to implement the Mission and illustrated concrete measures and actions to protect and restore marine and freshwater ecosystems and biodiversity, boost coastal resilience, eliminate pollution, and make the blue economy climate-neutral and circular, as well as recommended further necessary initiatives. [1]
Did you know that there is a map layer in the European Atlas of the Seas on actions submitted by the signatories of the Mission Charter? The EU Mission "Restore our Ocean and Waters" aims to protect and restore the health of our ocean and waters through research and innovation, citizen engagement and blue investments. The Mission's approach addresses the ocean and waters as one and plays a key role in achieving climate neutrality and restoring nature. The Mission actions present the joint efforts to achieve the following three objectives of the Mission Restore our Ocean and Waters by 2030 to:
Protect and restore marine and freshwater ecosystems and biodiversity, in line with the EU Biodiversity Strategy 2030;
Prevent and eliminate pollution of our ocean, seas and waters, in line with the EU Action Plan Towards Zero Pollution for Air, Water and Soil;
Make the sustainable blue economy carbon-neutral and circular, in line with the proposed European Climate Law and the holistic vision enshrined in the Sustainable Blue Economy Strategy.
Cross-cutting enabling actions support this objective, in particular broad public mobilisation and engagement and a digital ocean and water knowledge system, known as Digital Twin Ocean.
The Mission supports regional engagement and cooperation through area-based "lighthouses" in major sea/river basins: Atlantic-Arctic, Mediterranean Sea, Baltic-North Sea, and Danube-Black Sea. Mission lighthouses are sites to pilot, demonstrate, develop and deploy the Mission activities across EU seas and river basins.
Wish to know more and to get involved?
The data in this map are provided by the European Commission .