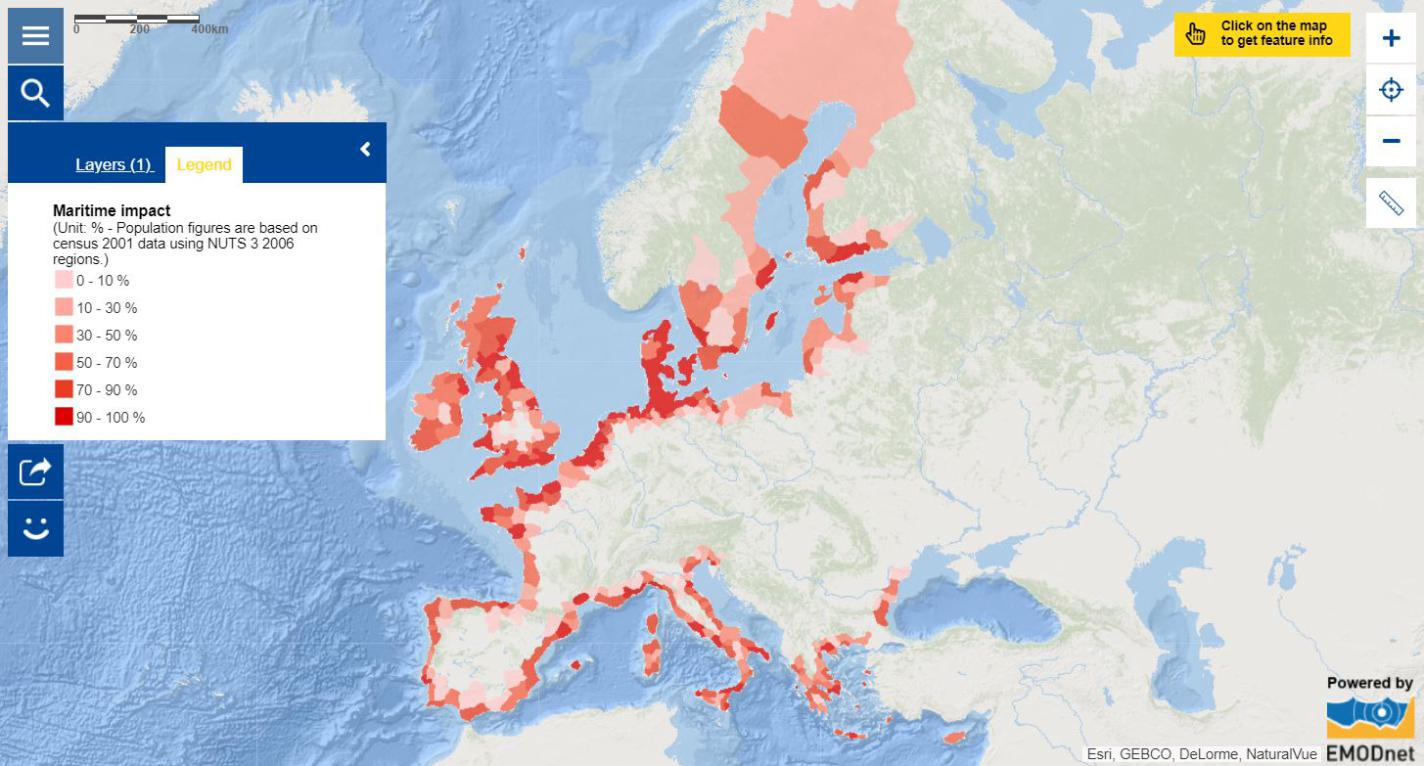 The ocean and seas continue to play a leading role in the development of European culture, economy, identity and history. In 2017, 93% of the 512 million EU inhabitants lived in one of the coastal Member States, with two fifths of EU's population (214 million people or 41.8% of EU residents) living in a coastal region. It is perhaps not surprising then that the EU blue economy directly employed over 4 million people in 2017 in established sectors, a 7.2% increase compared to 2009, largely driven by the coastal tourism and ports, warehousing and construction of water projects sectors[1].
The impact of maritime activities on populations reaches much wider than direct employment and can be calculated as a maritime service (impact) area[2]. This map of the week shows the percentage of the population living in maritime service areas across different Member States, giving the share of the population impacted most directly by maritime activities. These coastal areas are subdivided into sub-national territorial regions (using NUTS nomenclature[3]) and are areas that can be reached within a given travelling time, starting from a location at the coast and using the existing transport network. Maritime service areas account for a large (79%) and growing proportion of the EU population[4] impacted by maritime activities.
The high concentration of people in coastal regions has produced many economic benefits, such as improved transportation links, industrial and urban development, revenue from tourism, and food production. As coastal regions become more attractive, however, the combined effects of booming population growth and economic and technological development are threatening the ecosystems that provide these economic benefits. This calls for increased attention to a sustainable approach to economic activities, whilst maintaining good environmental status of the marine environment as a key asset for improving the EU's competitiveness, long-term growth and employment as well as human health and wellbeing.
The data in this map were provided by Eurostat.
---