Bathymetry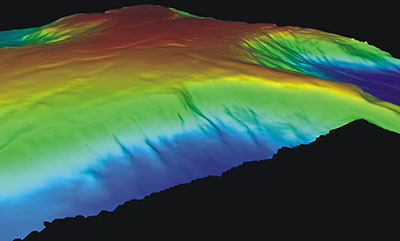 Objectives of the Bathymetry Challenge were to:
Identify sea basin water depth with certainty, where possible;
Identify areas where water depths are not able to be identified with certainty, due either to a lack of bathymetric data or to the low quality of data available; and
Identify priority areas for further surveying to ensure safer vessel navigation, for both existing and future navigational needs.
Activities include the gathering and integration of available data sets and mapping coverages, including bathymetric and shipping data from European and national databases; EMODnet portals; SeaDataNet; Copernicus marine service; ACCESS; ICES; NOAA National Geophysical Data Center; Marine Cadastre; Geographic Information Network of Alaska; Bureau of Ocean Energy Management; USGS Alaska Geospatial Data Committee; US Coast Guard; National Weather Service; and European Marine Observation and Data Network.

An internet search was completed to determine the availability of Geographic Information Systems (GIS) for bathymetric data available for the Arctic.  Research found that high resolution processed data was quite limited in the public domain. However, the National Oceanic and Atmospheric Administration (NOAA) and associated agencies do provide a large variety of Web Map Services (WMS) that allow the user to pinpoint available unprocessed surveys for areas of interest. Two data sets were found compiled by UNH/CCOM-JJHC, Law of the Sea data that have processed NOAA multibeam bathymetric surveys.  

Data reviewed provided information on water depths for the areas of interest to this project. Several data sets provide a comprehensive bathymetric basemap for the Arctic; however, these data have various limitations based on the intended purpose: for example, the IBCAO has a 500-meter spacing, which is too sparse for navigational use in many instances. These data sets may be useful for both mapping and more generalized analysis.
Data provided in WMS format
NOAA Marine Trackline Data showing all survey transects
NOAA Multibeam Bathymetry Surveys
NOAA Ocean Services (NOS) Hydrographic Surveys
Global Relief Model (ETOPO1)
Digital Elevation Model Footprints
Global Relief Model (GEBCO008), Shaded Relief Visualization
Data provided by UNH/CCOM
The data location was provided for this not available in WMS.
Arctic Multibeam Compilation (v1.0)
A new high-resolution multibeam bathymetry compilation for the Canada Basin and Chukchi Borderland in the Arctic Ocean - United States Arctic Multibeam Compilation (USAMBC Version 1.0). This compilation was created from multibeam data available through public repositories, preserving their native resolution and allowing for more detailed interpretation of the sea-floor morphology than currently possible with other large-scale compilations. Much of the new data was collected through dedicated mapping cruises in support of the United States effort to map extended continental shelf regions beyond the 200 nm Exclusive Economic Zone. Data quality was evaluated using nadir beam crossover error statistics, and compiled into a high-resolution grid through a weighted vertical stacking algorithm. Both the gridded compilation and an easily-distributed PDF is freely available through the University of New Hampshire's Center for Coastal and Ocean Mapping (http://ccom.unh.edu/theme/law-sea).

These data sets provide information on where water depth information exists for the study area, and where information is as of yet not available. While sufficient for general research and interest, the data is insufficiently granular to be used for navigation. Continuing efforts for this Challenge were assembling available navigational track information for analysis in relation to the known water depths to identify priority areas for further surveying to ensure safer vessel navigation.

Photo: Martine van den Heuvel-Greve