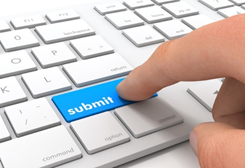 The EMODnet Data Ingestion Portal streamlines the data ingestion process so that data holders from public and private sectors, that are not yet connected to the existing marine data management infrastructures, or who do not share data on a regular basis, can easily release their data for safekeeping and subsequent distribution through EMODnet.
Do you want to contribute data to EMODnet? EMODnet Data Ingestion makes it easy.
In some instances, specific data-sets in particular thematic areas, e.g. seabed habitat maps or biodiversity datasets can be submitted directly to the relevant EMODnet portal. 
Why submit data to EMODnet?
Satisfying funding requirements: Increasingly funding bodies and governments require that data obtained using public funds be made open access. Submitting data and making it available via EMODnet ensures data is publicly shared for maximum re-use.
Safeguarding data: submitting data to EMODnet can ensure the longevity of the data set.
Adding value to the data: making data available via EMODnet allows datasets to be combined to create data products, such as digital terrain models. Underlying data sources are always acknowledged. Exposing data to other potential users, inside or outside your own community, can help to detect errors in the datasets and ultimately, improve their quality.
Preventing duplication of effort: Making a data set visible via EMODnet prevents unnecessary duplication of effort, reducing costs for operators and environmental impact.
Compliance: In some cases, EMODnet can help data providers to comply with legal requirements to share data in a certain way (e.g. INSPIRE).
Support: EMODnet can provide support to any individual or association that may be interested to share data.
Acknowledgment: EMODnet ensures that sources of data are properly acknowledged. Data owners can benefit from greater visibility and recognition.
Which one are you?
Scientist
Scientists who share their data have increased citation rates (Piwowar and Vision, 2013). In addition, shared datasets can be identified and cited through digital object identifiers (DOIs). A DOI citation index has become a way to measure impact of research in the future.
Public body
Data-sharing avoids duplication of efforts and resource wasting and can reduce environmental impact. It has become a requirement from many funding agencies supporting observational networks, particularly when the data collection has been supported with public funding.
Private company
Sharing data leads to improved data products and information such as, for example, digital terrain models (DTM), seabed habitat maps or ocean forecasts, resources which the private sector can themselves use. Sharing data can also contribute to corporate social responsibility and a company can also benefit through availing of services to support quality control.
 

 
Media
Full videos
Downloadable teasers