Overview
As a way to better understand their remit, "Sea Basin Checkpoints" could in the past be regarded as an overarching observing system for the sea basins. What they observed was the whole realm of marine data which had been distributed at the time*, amongst a great number of organizations, people and places and in a variety of systems addressing many different purposes. This massive amount of data was, and still could be considered as something that featured a lot of natural variability in terms of data appropriateness and conditions of availability for users' applications. It should be noted by the user that data was partially and not homogeneously described, neither through the metadata nor via web pages and documentation within their repositories. This acted as a first filter on actual data content and quality, as well as introduced a certain level of  uncertainty, i.e.,  as to what the data sets really were.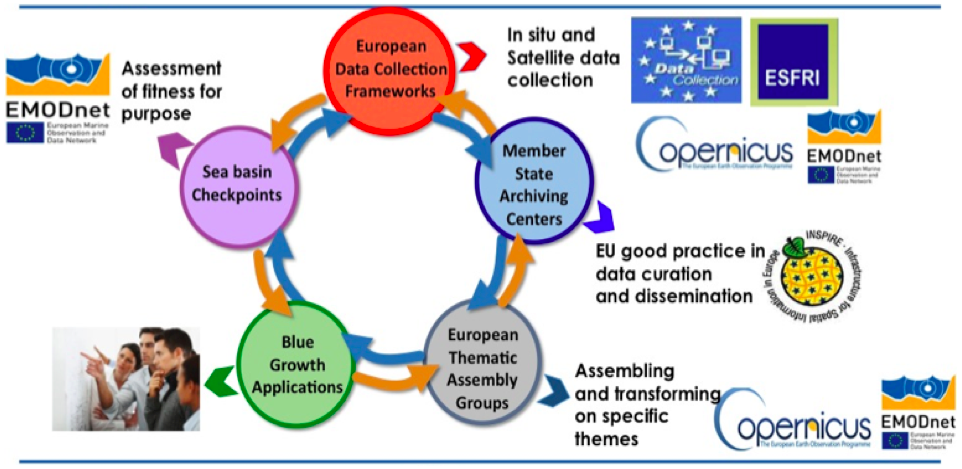 EU initiatives supporting the blue economy
The integrated checkpoint service was driven by two types of access/usage, public one and restricted for project use (challenges partners, experts and contributors). The public service served primarily institutional policy-makers on one side to data producers and data providers on the other side to improve the adequacy of existing monitoring systems for the scope of the EU maritime strategy. They were the main usage drivers.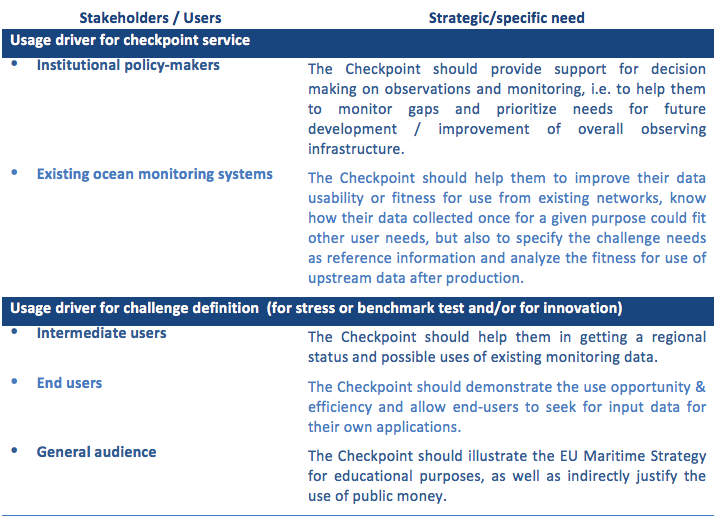 The checkpoint audience
For institutional policy makers, the checkpoint service should provide support for steering committee and decision making on observations monitoring and data management / dissemination infrastructure. This was done by developing checkpoint e-services ingesting metadata and delivering indicators and statistics for focusing on priorities, by challenge, by category of characteristics, by level of data after transformation process, and any type of relevant criterion (e.g. geographical area, elevation range, period of time, resolution…), highlighting gaps of the monitoring in addition to fact sheets and expert reports with proposed solutions.
For the other categories, it should help them to grasp how their data collected could fit other uses than their initial purpose, or demonstrate the potential of innovative applications thanks to the availability of upstream data sets. To this end the checkpoint challenges analyzed the fitness-for-use of the upstream data according to the requirements they specified to produce the thematic products mandated by the EMODnet tender. The regional checkpoint had thus developed checkpoint e-service with indicators yielding feedback on availability and appropriateness of the upstream data described in the checkpoint catalogue all need information to evaluate fitness for use.
Terminology and Nomenclature
[collapse]
 
There are several ways to classify all the applications. From a checkpoint perspective, "Applications" means gathering all activities that exploit marine data products.
Characteristics:
"Characteristic" is the terminology used in MSFD. It means either a variable of an observed or estimated phenomenon (eg depth) or a geographical feature (eg roads, protected areas) represented by a spatial object with a vector (point, line, polygon) or raster geometry (eg image).
Data:
Numbers and information pertaining to observations made in time and space. The data considered here are meteo-marine, oceanographic and freshwater physical, biological, chemical and geological variables as well as data related to human activities.
Monitoring data:
Data that are collected by an instrument at a particular place and time and that are repeated periodically in order to monitor changes over time. They may be raw or processed to make them interoperable with other data.
Data layer:
Aggregated data, assimilated, interpolated or extrapolated values that provide a complete coverage over the whole area at certain dates. The data can be two, three or four dimensional (including time) depending on the nature of the data and the needs of the user.
Dataset:
A "dataset" is a collection of data. It can be a time series, a lithological description of a marine sample, a gridded data set such as a DTM, a hydrodynamic model output, a GIS dataset ie a set of geographical features with a vector geometry such as the polygonal limits of protected areas or a raster geometry such as a satellite image, or a table of values in a publication.A dataset can be made up of several files (eg. seismic data files recorded along the same line). A database can be considered as a dataset or a dataset series.
Dataset series/Collection of data sets:
A dataset series (term used by ISO) is a collection of data sets sharing (usually or in principle) the same specifications of production: see the Inspire Geoportal. To avoid any misunderstanding, the term "collection of data sets" will be used.
Input Dataset:
This is the collection of existing data to be inputted to the Challenges.
Metadata:
Information on one or more aspects of data, such as time and date of creation, owner of data, standards used, access rights.
GIS contiguous:
A set of data, points, gridded or polygons that can be represented on a map.
Tile:
A spatial unit by which data are organized, subdivided, and stored. A tile can be a regular, geometric shape (e.g., corresponding to a map sheet) or an irregular polygon.
Marine or region/subregion:
A specified area or sub-area of Europe's seas, as defined within the Marine Strategy Framework Directive. These are specific instances of sea-basins.
Sea baseline:
A baseline is the line from which the seaward limits of a state's territorial sea is calculated.
Sea basin:
A recognisable geographical area of marine waters, often confined by land to form a distinct body of water.
Thematic assembly groups:
"Consortia of organizations that assemble data from all data centres on specific themes". Thematic assembly groups are divided into 7 discipline-based themes: bathymetry, geology, physics, chemistry, biology, physical habitats and human activity. It includes EU initiatives other than Emodnet projects, such as Global Monitoring for Environment and Security (GMES), the Data Collection Framework in fisheries.
Environmental matrices:
The environment matrix is the environment to which a characteristic is related and defined as:
Air, Water (Marine or Fresh), Biota/Biology, Seabed, Human activities.
GIS:
A geographic information system, also known as a geospatial information system, is any system for capturing, storing, analyzing and managing data and associated attributes which are spatially referenced to the Earth. Within the marine domain, it is regulated by Inspire.
Assessment criteria:
The criteria are focused on two questions: "what" is made available to the challenges and "how"? They are derived from the quality principles of the ISO19113 standard for geographical information which concerns 99% of the data needed by the challenges and additional criteria related to services recognized in the literature as key elements for the establishment of fitness for use.
Fitness for use or fitness for purpose:
Within the ISO 8402 framework, fitness for purpose is understood as the "totality of a product characteristics that bear on its ability to satisfy stated and implied needs" and it includes the ease with which a user can obtain data. The geographical information standards developed 'to describe geographical information'" (ISO 19115) and "to assists a data user in determining a product's ability to satisfy the requirements for their particular application" (ISO 19113, ISO 19157) seem an appropriate basis for the establishment of their fitness for use.
 [/collapse]
[collapse]
| | |
| --- | --- |
| ACCOBAMS | Agreement on the Conservation of Cetaceans in the Black Sea Mediterranean Sea and Contigous Atlantic Area |
| AEMET | State Meteorological Agency (ES) |
| AIS | Automatic Identification System |
| API | American Petroleum Institute |
| ARGO | system for observing temperature, salinity, and currents in the Earth's oceans |
| ARPEGE | Research Project on Small and Large Scales |
| AVISO | Archiving, Validation and Interpretation of Satellite Oceanographic Data |
| BirdLife | Global Species Programme collates and analyses information on all the world's birds |
| BODC | British Oceanographic Data Centre |
| BOUSSOLE | Buoy for the acquisition of long-term optical time series |
| Cal/Val | Calibration/Validation |
| CAMP | Coastal Area Management Programme |
| CARBONOCEAN | Marine carbon sources and sinks assessment |
| CetaceanAlliance | Preserving Whales and Dolphin of the Mediterranean Sea |
| CFP | Common Fisheries Policy |
| CH4 | Methane |
| Chl | Chlorophyll |
| CISL | Computational and Information Systems Laboratory |
| CLIM012 | Global and European sea level rise |
| CLIM013 | Sea surface Temperature |
| CLIM9434 | Ocean heat content |
| CLS | Collecte Localisation Satellites (FR) |
| CLU | CLU s.r.l. (IT) |
| CMCC | Euro-Mediterranean Centre for Climate Change (IT) |
| CNR | National Research Council (IT) |
| CO2 | Carbon Dioxide |
| COCONet | Continuously Operating Caribbean GPS Observational Network |
| CODAS | Consolidated Operations and Delay Analysis System |
| Copernicus | European Programme for the establishment of a European capacity for Earth Observation |
| COST | Cooperation in Science and Technology |
| CPR | Continuous Plankton Recorder |
| Cs-137 | Caesium-137 |
| CSDMS | Community Surface Dynamics Modeling System |
| CYCOFOS | Cyprus Coastal Ocean Forecasting and Observing System |
| DAC | Data Assembly Center |
| DCF | Data Collection Framework |
| DCR | Data Collection Regulation |
| DDT | Dichloro-Diphenyl-Trichloroethane |
| DG-MARE | Directorate-General for Maritime Affairs and Fisheries |
| DIC | Dissolved Inorganic Carbon |
| DIN | Dissolved Inorganic Nitrogen |
| DIP | Dissolved Inorganic Phosphorous |
| DIRM | Inter-Regional direction of Mediterranean Sea |
| DON | Dissolved Organic Nitrogen |
| DOP | Dissolved Organic Phosphorus |
| DTM | Digital Terrain Model |
| E-AIMS | Euro-Argo Improvements for the GMES Marine Service |
| E-HYPE | Pan-European hydrological model |
| E-SURFMAR | Surface Marine Operational Service |
| EC | European Commission |
| ECMWF | European Centre for Medium-Range Weather Forecasts |
| ECV | Essential Climate Variables |
| EDF-EN | EDF Energies Nouvelles (FR) |
| EDMED | European Directory of Marine Environmental Data |
| EEA | European Environmental Agency |
| EEC | European Economic Community |
| EEZs | Exclusive Economic Zones |
| EGO | European Glider Observatory |
| EIONet | European Environment Information and Observation Network |
| EMODnet | European Marine Observation and Data Network |
| EMSA | European Maritime Safety Agency |
| EMSO | European Multidisciplinary Seafloor and Water Column Observatory |
| ERIC | European Research Infrastructure Consortium |
| ESA | European Space Agency |
| ESFRI | European Strategy Forum on Research Infrastructures |
| ESI | Environmental Sensitivity Index |
| ESONET | European Seas Observatory NETwork |
| EU | European Union |
| EUMETNET | European National Meteorological Services |
| EUNIS | European Nature Information System |
| Euro-Argo | European contribution to ARGO program |
| EUROGOOS | European Global Ocean Observing System |
| EUROSION | European initiative for sustainable coastal erosion management |
| EuroSITES | European Open Ocean Observatory Network |
| EUROWATERNET | European Environment Agency's Monitoring and Information Network for Inland Water Resources |
| EUSeaMap | Mapping European seabed habitats |
| EWGs | Expert Working Groups |
| FAO | Food and Agriculture Organization |
| FEM | Association de Préfiguration de l'IEED France Energies Marines (FR) |
| FishStat | Universal software for fishery statistical time series |
| FixO3 | Fixed point Open Ocean Observatory network |
| FP7 | Seventh Framework Programme |
| GDAC | Global Data Assembly Center |
| GEBCO | General Bathimetric Chart of the Oceans |
| GEO | Group on Earth Observation |
| Geoportal | type of web portal used to find and access geographic information |
| GEOSS | Global Earth Observation System of Systems |
| GES | Good Environmental Status |
| GFCM | General Fisheries Commission for the Mediterranean |
| GIS | Geographic information system |
| GISC | GMES in-situ coordination |
| GLA | Green Line Association |
| GMES | Global Monitoring for Environment and Security |
| GNOO | National Group for Operational Oceanography |
| GOOS | Global Ocean Observing System |
| GPS | Global Positioning System |
| GRDC | Global Runoff Data Center |
| GSA | Geographical Sub-Areas |
| H2S | Sulfuric Acid |
| HAB | Harmful Algal Bloom |
| HadISST | Hadley Centre Sea Ice and Sea Surface Temperature data set |
| HCMR | Hellenic Centre for Marine Research (GR) |
| HF | High Frequency |
| HO | Hydrostatic Office |
| HyMeX | Hydrological cycle in the Mediterranean Experiment |
| ICCAT | International Commission for the Conservation of Atlantic Tunas |
| ICES | International Council for the Exploration of the Sea |
| ICZM | Integrated Coastal Zone Management |
| IEO | Instituto Español de Oceanografía |
| IFREMER | Institut Français de Recherche pour l'Exploitation de la Mer (FR) |
| IH-Cantabria | Fundación Instituto de Hidráulica Ambiental de Cantabria (ES) |
| IHO | International Hydrographic Organization |
| IMEDEA | Mediterranean Advanced Studies Institute |
| IMO | International Maritime Organization |
| IMP | Integrated Maritime Policy |
| INGV | National Institute of Geophysics and Volcanology (IT) |
| INSPIRE | Infrastructure for Spatial Information in the European Community |
| IOC | Intergovernmental Oceanographic Commission |
| IPCC | Intergovernmental Panel on Climate Change |
| IRIS-SES | Integrated Regional monitoring Implementation Strategy in the South European Seas |
| ISAC | Institute of Atmospheric Sciences and Climate |
| ISCOMAR | Isleña Marítima de Contenedores |
| ISO | International Organization for Standardization |
| ISPRA | Italian National Protection Agency |
| IUCN | International Union for Conservation of Nature |
| IUU | Illegal, Unreported and Unregulated |
| JCOMM | Joint WMO-IOC Commission on Marine Meteorology |
| JERICO | Towards a joint European research infrastructure network for coastal observatories |
| JRC | Joint Research Centre |
| LAT | Lowest Astronomical Tide |
| LBS | Land Base Sources |
| LIFE | EU's financial instrument supporting environmental, nature conservation and climate action projects throughout the EU |
| MAP | Mediterranean Action Plan. |
| MAPMED | Management of port areas in the Mediterranean Sea Basin |
| MARBEF | Marine Biodiversity and Ecosystem Functioning |
| MARBOUND | VLIZ Maritime Boundaries Geodatabase |
| Med-Hycos | Mediterranean Hydrological Cycle Observing System |
| MEDAR/MEDATLAS | Mediterranean Data Archaeology and Rescue |
| MEDESS4MS | Mediterranean Decision Support System for Marine Safety |
| MEDISEH | Mediterranean Sensitive Habitats |
| MEDPAN | MEDiterranean Protected Areas Network |
| MEDPOL | Programme for the Assessment and Control of Marine Pollution in the Mediterranean |
| MEDSLIK | Mediterranean oil spill model |
| MNHN | Inventaire National du Patrimoine Naturel |
| MONGOOS | Mediterranean Operational Network for the Global Ocean Observing System |
| MOOSE | Mediterranean Ocean Observing System on Environment |
| MPA | Marine Protected Area |
| MRE | Marine Renewable Energy |
| MRI | Marine Research Infrastructure |
| MS | Member States |
| MSFD | Marine Strategy Framework Directive |
| MSP | Maritime Spatial Planning |
| MSSD | Mediterranean Strategy for Sustainable Development |
| MyO | MyOcean, Ocean Monitoring and Forecasting |
| NATURA 2000 | centrepiece of EU nature & biodiversity policy |
| NAUSICAA | National Sea Centre |
| NKUA | National and Kapodistrian University of Athens |
| NOAA | National Oceanic and Atmospheric Administration |
| NRT | Near Real Time |
| NUTS | Nomenclature of territorial units for statistics |
| OCEANS-CAT | OCEANS Catalonia International SL (ES) |
| OCHA | Office for the Coordination of Humanitarian Affairs |
| OGC | Open Geospatial Consortium |
| OSE | Observing System Experiment |
| OSOCC | Oil Spill Operations and Co-ordination Centre |
| OSSE | Observing System Simulation Experiments |
| OWF | Offshore Wind Farms |
| P01 | BODC Parameter Usage Vocabulary |
| P02 | SeaDataNet Parameter Discovery Vocabulary |
| P03 | SeaDataNet Agreed Parameter Groups |
| PAL | Passive Acoustic Listener |
| PANGAEA | Data Publisher for Earth & Environmental Science |
| PCB | polychlorinated biphenyls |
| pCO2 | partial pressure of carbon dioxide |
| PERSEUS | Policy-oriented marine Environmental Research in the Southern European Seas |
| pH | Acidity |
| PLOCAN | Oceanic Platform of the Canary Islands |
| PODAC | Product-Oriented Design And Construction Cost Model |
| POSEIDON | Applications of Seismic Oceanography |
| PROTECTEDPLANET | The latest initiative harnessing the World Database on Protected Areas |
| PSMSL | Permanent Service for Mean Sea Level |
| Pu-239 | Plutonium-239 |
| RAC-SPA | Regional Activity Centre for Specially Protected Areas |
| RAMSAR | Convention on Wetlands of International Importance |
| REMPEC | Regional Marine Pollution Emergency Response Centre for the Mediterranean Sea |
| REMSS | Remote Sensing Systems |
| RESPONSES | project investigating EU policy action on climate change |
| RI | Research Infrastructure |
| RITMARE | Italian Marine Research Program |
| RivDIS | Global River Discharge |
| RMS | Root Mean Square Error |
| ROOS | Regional Operational Oceanographic Systems |
| RORO | Roll-on/roll-off |
| S-AWS | Shipborne Automated Weather Stations |
| SACOSTA | Environmental Sensitivity of the Coastline |
| SAR | Search and Rescue |
| SCREAM | Spatially Continuous Resource Economic Analysis Model |
| SDN | SeaDataNet, pan-european infrastructure for ocean & marine data management |
| SeaBASS | SeaWiFS Bio-optical Archive & Storage System |
| SEDNET | European Sediment Network |
| SESAME | Synchrotron-light for Experimental Science and Applications in the Middle East |
| SHOM | Service hydrographique et océanographique de la marine |
| SIH | French Fisheries Information System |
| SKIRON | The regional weather forecasting system |
| SOCIB | Balearic Islands Coastal Observing and Forecasting System (ES) |
| SONEL | Système d'Observation du Niveau des Eaux Littorales |
| SOOP | Ship Of Opportunity Programme |
| SPA | Special Protection Area |
| SPAMI | Specially Protected Areas of Mediterranean Importance |
| SPLASHCOS | Submerged Prehistoric Archaeology and Landscapes of the Continental Shelf |
| SST | Sea Surface Temperature |
| STAG | Scientific and Technical Advisory Group |
| STECF | Scientific, Technical and Economic Committee for Fisheries |
| TAC | Total Allowable Catch |
| TBT | Tributyltin |
| TMOOS | Marine Technologies, Operational Oceanography and Sustainability Department |
| TN = Tot_N | Total Nitrogen |
| TOC | Total Inorganic Carbon |
| TOSCA | Tracking Oil Spills & Coastal Awareness network |
| TP= Tot_P | Total Phosphorus |
| TPT | triphenyltin |
| UCY | University of Cyprus (CY) |
| UHSLC | University of Hawaii Sea Level Center |
| UN | United Nations |
| UNCLOS | United Nations Convention on the Law of the Sea |
| UNEP | United Nations Environment Programme |
| UNESDO | United Nations Educational, Scientific and Cultural Organization |
| VLIZ | Flanders Marine Institute |
| VMS | Vessel Monitoring System |
| VOS | Voluntary Observing Ship |
| WASP | Wind Atlas Analysis and Application Program |
| WDPA | World Database on Protected Areas |
| WFD | Water Framework Directive |
| WISE | Water Information System for Europe |
| WMO | World Meteorological Organisation |
| WMOP | SOCIB Western Mediterranean Sea Operational forecasting system |
| WRF | Weather Research and Forecasting |
| WSAG | Water System Analysis Group |
| WWF | World Wildlife Fund |
 [/collapse]
Ocean monitoring systems are necessary but expensive. In order to save costs and improve marine knowledge, the EU was moving to a new paradigm where we collect data once and use them for many purposes. The DG MARE concept of sea-basin checkpoints was introduced within the "Marine Knowledge 2020 communication" and defined in the EU roadmap:
To perform regular evaluation of observation networks and supporting observation programs, at the scale of the EU sea basins, and identify priorities both in terms of creation of new data (i.e. enriching data coverage) and in making existing data more available and usable (EU systems shown in orange on figure below).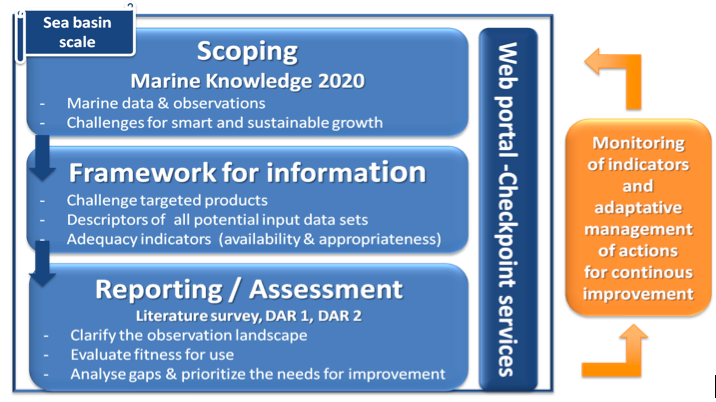 The checkpoint process / project perimeter with the enhancement loop from decision makers and existing monitoring systems
(an ISO 9004 Quality assessment approach)
Whereas the checkpoint service evaluated & released the status on monitoring data at the scale of the sea basin (blue components on the left), the governing infrastructure took actions to enhance the marine infrastructure ("better know to better act") and required a new evaluation cycle (if so). Whether checkpoints should be updated and at which frequency according to changes in marine data landscape was for DG MARE to decide. In any case, the design of an open and repeatable process puts us on the safe side if an update was to occur.
An external expert panel reviewed the checkpoint usefulness and provided advices for Marine environment variability and change (climate change, eutrophication, river inputs, bathymetry, alien species).
The overall aim of the EMODnet Checkpoints was to assess the adequacy of existing monitoring systems and data mechanisms at sea basin level. The scope were not primarily to test the effectiveness of EU initiatives, although this analysis should be included, but rather to assess how well all available marine data met the needs of users or what else should be needed, at the scale of the EU seas and through the prism of downstream use cases called challenges.
To answer these questions, the sea basin checkpoint service was defined a wide monitoring system assessment activity aiming to support the sustainable Blue Growth at the scale of the European Sea Basins and 6 regional checkpoints implemented (Arctic, Atlantic, Baltic, Black Sea, MedSea, North Sea) with a view to:
Clarify the observation landscape, of all compartments of the marine environment – Air, Ice, Fresh Water, Marine Water, Riverbed/Seabed, Biota/Biology and Human activities -, pointing out to the existing programs, European, National, and International;
Evaluate the adequacy of marine data that is how well the present data collection, monitoring and surveying programmes meet the needs of user, through the prism of blue applications of paramount importance for the European Marine Environment Strategy:

Energetic and food security (renewable energy, fisheries & aquaculture management);
Marine environment variability and change (climate change, eutrophication, river inputs, bathymetry, alien species);
Emergency management (oil spills, fishery impacts, coastal impacts);
Preservation of natural resources and biodiversity (connectivity of Marine Protected Areas).
Identify gaps in data and service infrastructure for selected use cases, called challenges, including the reluctance to use,
Identify the needs to optimize existing monitoring systems in terms of availability, operational reliability, efficiency, time consistency, space consistency, etc., as well as observational priorities required in the future to meet the challenges.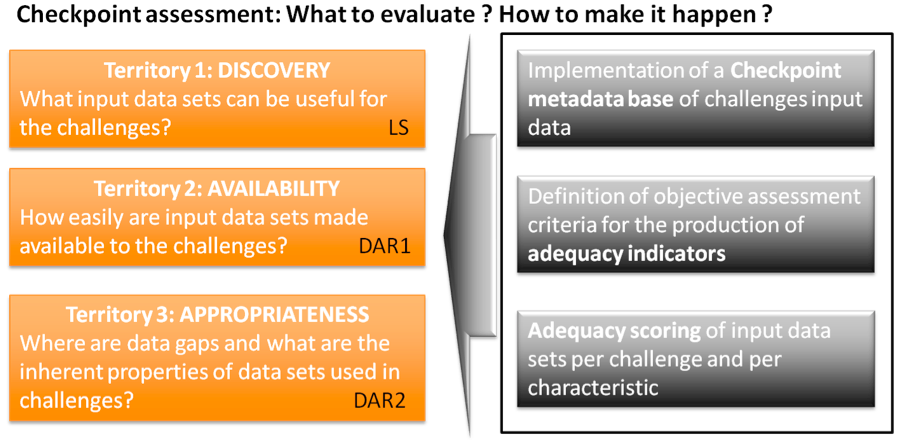 Challenges are required to assess three " territories".
They are supported by a standard method and operational tools
Checkpoint outcomes were tightly link to the definition of challenges and their terms of references but also on the configuration of partners to meet the attended results. They were the heart of the process. For the first checkpoint cycle, challenges were mainly selected/defined for their experimental value, a stress test on input data. The resolution of gaps was outside the project perimeter.
The qualitative assessment can be described as successive actions, it was thought in 4 phases and 6 checkpoint tasks: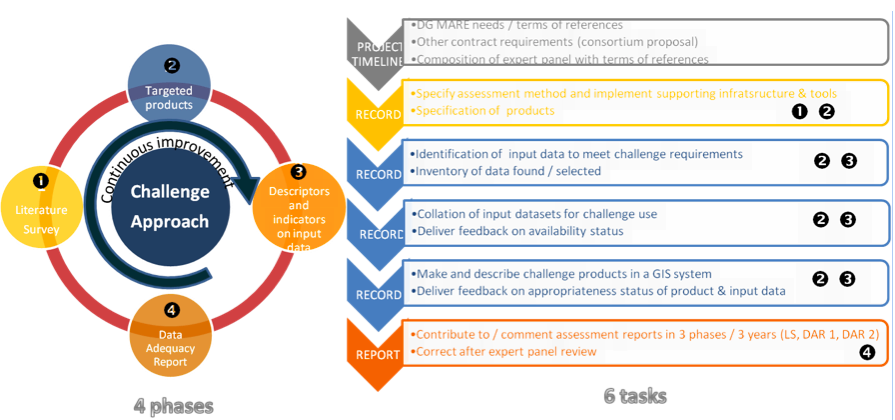 The sequence logic of the assessment process
 PHASE 1
The Literature Survey (LS) attempted to enlarge the project partners awareness of observing data landscape within the basin through published case studies.
PHASE 2
The development of products & confidence limits within thematic challenges, made available – spatial and non-spatial alike – in a GIS system for dynamic mapping, along with clear product specification and requirements for upstream data, and feedback on their adequacy (compatible with INSPIRE, EMODnet and OGS).
PHASE 3
The web-site portal was required to provide a free and unconditional access to outputs from challenges compatible with INSPIRE, EMODnet and OGS, and to EMODnet portals plus link to the EU's maritime forum which contains all reports and allows comments and feedback. The operations of checkpoint web tools and services released description of data and products and assessment available for all in a standard and reproducible form.
PHASE 4
The assessment of upstream data was achieved in two phases :
A first assessment achieved the first year (DAR 1) focused on releasing/revising the availability status of input data.
A second assessment achieved in a second phase / second year (DAR 2) focused on evaluating the data adequacy (fitness for use, appropriateness)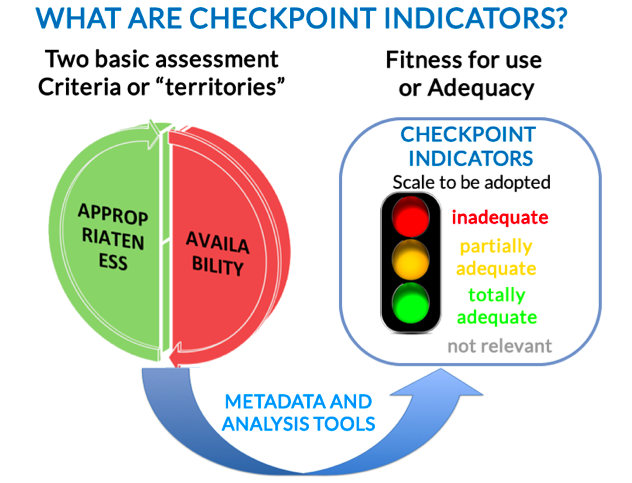 From checkpoint descriptors to checkpoint indicators
Below the details of checkpoint availability indicators.








The checkpoint activity produces 3 levels of information, dated at the date of the assessment
Level 1 was related to the raw and neutral descriptors of input data and the release of the targeted products of challenges.
(At this level, one can already identify the role and synergies of the input data.)
Level 2 were targeted products and sectorial indicators to give feedback on the availability and the appropriateness status per challenge.
(Note here that the availability status was neutral and valid for all challenges.)
Level 3 were checkpoint results, composed of the checkpoint e-service to search for and present synthesized and focused indicators and checkpoint expert reports on the fitness for use of the observing infrastructure (literature survey and data adequacy).
(Indicators answer precise questions but cannot be interpreted without the added value comments and expertise published in the reports.)
The challenges are tasks that have been chosen in order to make the bridge with end-user applications and to test how comprehensive and accurate the monitoring and forecasting data sets are at a Mediterranean scale. They include the blue economy sector (offshore industry, fisheries), marine environment understanding (for MFSD health assessments and climate change issues) preservation of natural resources and biodiversity (Protected Marine Areas and red list species), 7 areas altogether:
Windfarm Farm Siting
Marine Protected Areas
Oil Platforms Leaks
Climate and Coastal Protection
Fisheries Management
Marine Environment
River Inputs
For more information on challenges see Challenges Section.
What is the nature and primary aim of the regional projects (assessment or development and release of products)?
The regional Checkpoint projects are quality-monitoring system assessments aimed at clarifying the observation landscape at the scale of the marine region. The assessment methodology has defined the monitoring information system (ie. the framework for the collection of descriptors and indicators) and its supporting GIS Platform to hold and manage all this information in order for its assessment and to make the results available to users. The assessment is performed by developing targeted products based on the monitoring data and by determining whether the products are meeting the needs of industry and public authorities (the fitness for use).
Who is the target audience?
The target audiences are the research community, the European 'institutional' policy makers, the 'intermediate users', i.e., users capable of understanding basic raw data but who benefit from seeing the Checkpoint targeted products and the assessment of the fitness for purpose.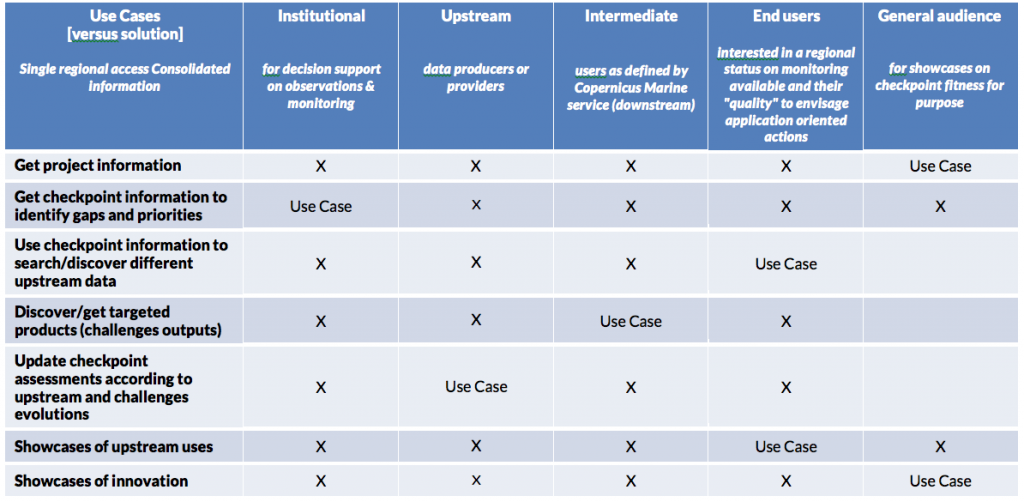 User categories and Checkpoint Web Portal information
Are they permanent services or one off 'projects' or both?
Checkpoints should be permanent services, because:
monitoring systems will evolve, and every few years re-assessments will be required;
different/further Challenges are required to really show gaps and complementarities in the various monitoring system components (e.g. eutrophication is only one of the issues of the 'Marine Environment' Challenges);
the evolution of the monitoring system for the European Sea and the global ocean require constant upgrading of the assessment indicators and descriptors;
the tools to make Challenge products could be disseminated if appropriate at a certain stage of the Checkpoint development;
best practice guides need to be developed to use the data with respect to Challenge targeted products together with training/educational tools;
strong and permanent links need to be established with intermediate and end users from industry to public authorities, and a feasible 'regional' approach is required;
the process and methodology used need to be maintained and applied
Should checkpoints provide data or only products, and if so what kind of data should be made 
available?
The checkpoints deliver Challenge targeted products and information (as defined in the Checkpoint Information page) and not the input data (they do not re-distribute).
Input data or upstream data are made available by the source portal (EMODnet Thematic Portals, Copernicus, Fishery and other data sources) and are directly linked in the information system and/or appropriately acknowledged.
If the Checkpoint targeted product is a collation of different data sets (which quite often it is) then the 'collated data set' is provided.
What is the best way to present the checkpoints to a wider audience online?
The regional checkpoint projects produce Checkpoint information and products:
1)         Checkpoint information is made up of descriptors and indicators, made available in the Checkpoint Service Section;
2)         Checkpoint products are Challenge targeted outputs, Literature Survey, Data Adequacy Reports, made available in the Reports and News Section.
The Checkpoint Service is connected to data source portals in order to harvest product metadata that are needed for gap analyses. The Checkpoint Information contains methodological aspects and explanations on how to use the Checkpoint information and products.