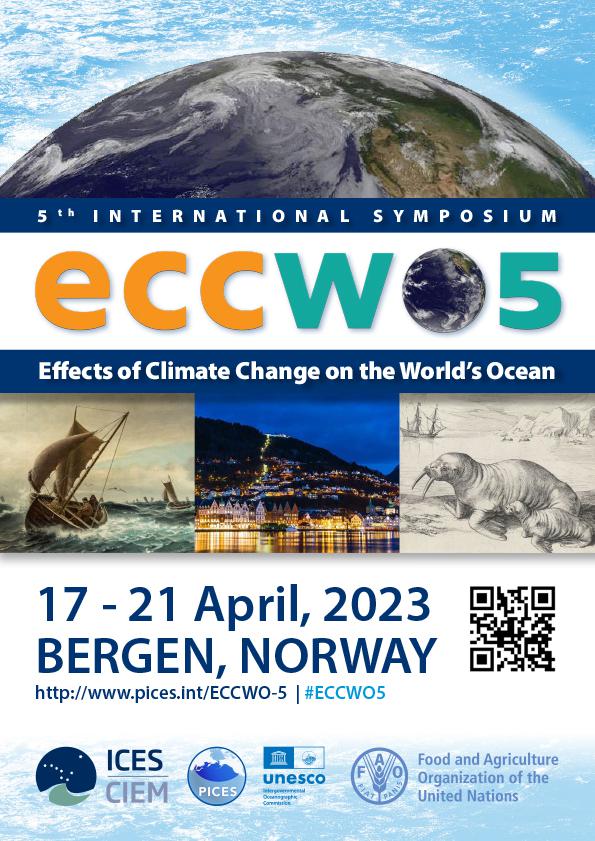 EMODnet Chemistry's contribution to tackling ocean acidification was presented by Elisabeth Kubin, researcher of the National Institute of Oceanography and Applied Geophysics - OGS, at the 5th International Symposium on Climate Change Impacts on the World Ocean - ECCWO5.
The event, held from 17-21 April in Bergen, Norway, aimed to identify key knowledge gaps, foster collaboration and stimulate the next generation of science and action. Participants shared how the oceans are changing, what is at risk and what strategies are available to increase resilience to, mitigate and adapt to climate change.
The poster titled 'Ocean Acidification Data: Weaves to be Tied on European and Global scale', presented in session 19 'Ocean Acidification Research for Sustainability', explains that EMODnet Chemistry provides several parameters related to ocean acidification, such as pH, total alkalinity (TA), total dissolved inorganic carbon (DIC) and CO2 partial pressure (pCO2). It also shows the validated and aggregated ocean acidification datasets produced and made available by EMODnet Chemistry. It also explains the new guidelines  for ocean acidification data and metadata management and the webODV tool  for data subset exploration and extraction. The main international organisers of ECCWO5 are the International Council for the Exploration of the Sea, the North Pacific Marine Science Organisation, the Intergovernmental Oceanographic Commission of UNESCO and the Food and Agriculture Organisation of the United Nations. The event included 5 workshops, a plenary session and 19 sessions on a wide range of topics and disciplines within and across the natural and social sciences. The aim of the symposium was to contribute to the Seventh Assessment Report of the Intergovernmental Panel on Climate Change (AR7), the UN Decade of Ocean Science for Sustainable Development, the implementation of the post-2020 actions set out in the Global Biodiversity Framework, the UN Sustainable Development Goals (SDGs) and the COP27 targets and climate negotiations.
Harmonising the information on EMODnet Chemistry Ocean Acidification data with world-wide ocean acidification databases is our overall objective. The alignment of metadata requirements of all platforms involved is essential to enable the exchange of datasets.
Download the poster on ocean acidification data here