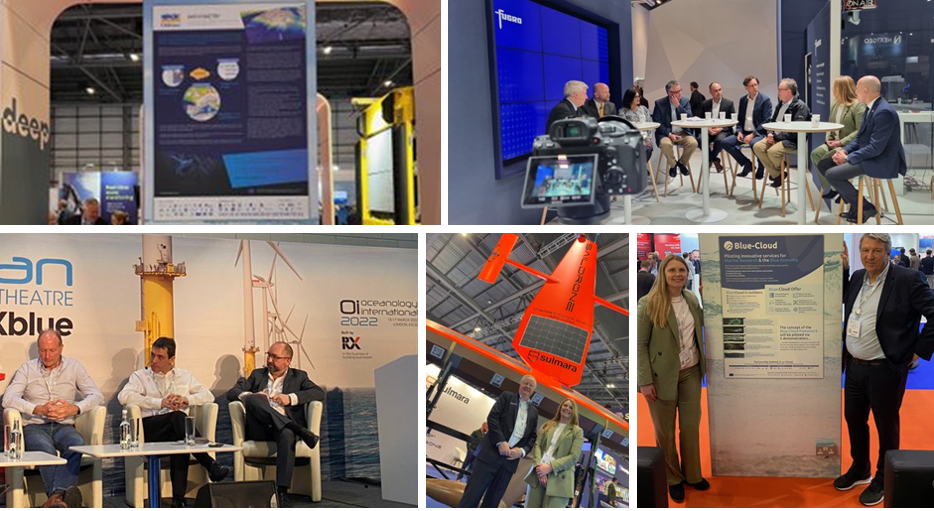 On 15-17 March 2022, EMODnet attended Oceanology International in London bringing together over 8,000 attendees and 500+ exhibitors from key players in maritime industry: businesses, academics and government. The EMODnet Secretariat, Coordinators and partners were engaged in posters, panels, podcasts, interactive seminars and much more. We look forward to sharing with you more outcomes in the coming months!
Dick Schaap, MARIS of EMODnet Data Ingestion, Bathymetry and Chemistry and Kate Larkin, Deputy Head, EMODnet Secretariat held a number of meetings with EMODnet Associated Partners and wider businesses including Fugro and the Marine Renewable Energy Sector to discuss ongoing and future collaboration opportunities from data use and requirement setting to exploring the win-win benefits of data sharing, best practice and expert know-how on all things ocean observation and marine data. Many EMODnet partner organisations and EMODnet Associated Partners attended with many exhibiting. European Horizon 2020 projects e.g., Blue-Cloud were also presented at the event.
Gus Jeans, Oceanalysis Ltd, EC Marine Knowledge Expert Group member, spoke on a Panel about marine data for the ocean energy transition, with data sharing top of the dialogue to enable smarter decisions, supporting the energy transition, greener operations, reducing uncertainty and saving costs.