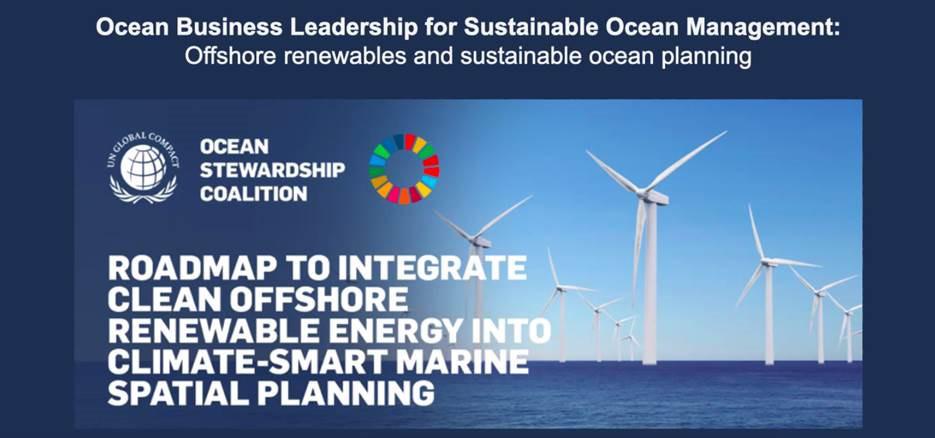 In October 2022, EMODnet was invited to join the Offshore Renewables and Marine Spatial Planning sprint workshop, organised  by the UN Global Compact Ocean Stewardship Coalition ocean management working group 'Offshore Renewables and Sustainable Ocean Planning' . The series of four weekly meetings gathered key knowledge stakeholders to identify, communicate, and address the challenges associated with Marine Spatial Planning for offshore renewables. The EMODnet Secretariat and EMODnet Human Activities  presented EMODnet to the international community, bringing key updates on EMODnet's offer of marine environmental, human activities data and data products, including the hosting of National EU Member State Maritime Spatial Plans. Key messages and testimonials from the recent EMODnet workshops on "Marine Data for the Offshore Renewable Energy sector" were also presented.
The working group's targeted sprints (a series of virtual working sessions) address the issues of data-sharing, biodiversity, and co-existence. The first sprint, which took place in October, focused on the area of harmonisation in terms of Offshore Renewable Energy (ORE) data/knowledge-sharing for a climate-smart and resilient ocean. Sprint 1 set out to determine how ORE data and knowledge can best be used to support ocean/coastal planning, resilience, and adaptation.
The working group will use these calls, and input from participants, to develop a policy brief that will be delivered at COP27.