Description
The 6th edition of the EU Datathon, the annual EU open data competition, has been launched.
Ideas for an application that links and uses open datasets to address one of the four challenges are closed.
Challenge 1: 'The European Green Deal'
Challenge 2: 'Transparency in public procurement'
Challenge 3: 'EU public procurement opportunities for young people'
Challenge 4: 'A Europe fit for the digital age'
EU Datahon are pleased to announce the 12 finalist teams, who are invited to compete in the finale of this year's EU Datathon: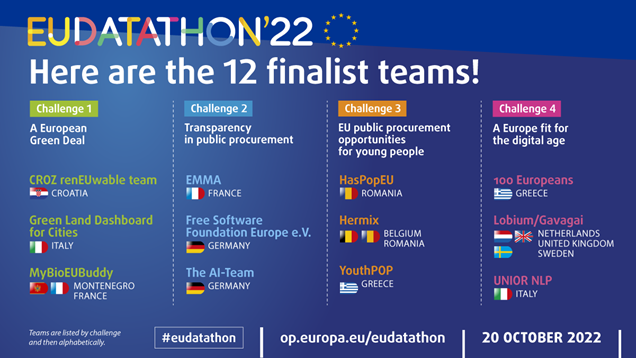 The list of finalists with more information about their apps is also published on the competition website. 
What's next?  
From now on, the teams have 3 months to further develop their applications. They will present them during the finale of the EU Datathon on 20 October. 
The registration for online participation in the final event will open in second half of August.
External Link