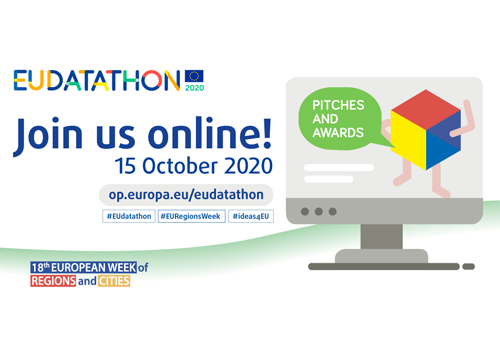 These 12 finalists are expected to present up-and-running apps that use open data made available by the EU institutions, agencies and bodies such as EMODnet. Each app should address one of four key challenges set by the European Commission
Apps that contribute to a greener economy, transform rural areas, foster transparency, defend our democracy against disinformation, provide educational tools to adapt to digitalisation … these are just some of the proposals the finalist teams from around the world will present at the final event.
Take a minute to learn more about what these teams are developing by watching the 'Behind the scenes' videos.
Join the final competition!
The final stage of EU Datathon 2020 will take place as part of one of the biggest EU events, the European Week of Regions and Cities (#EURegionsWeek), which brings together various EU and international partners. It will be accessible to everyone, you only need to register by clicking here.
The event will culminate in a prize-giving ceremony, including a public choice award that will give two tickets for this year's Web Summit in Lisbon: the public will vote on their preferred application during the last 7 days of the competition.
This year´s edition is organised by the Publications Office in close collaboration with the European Commission's Directorate-General for Regional and Urban Policy.
To find out more, join or follow the event please visit the EU Datathon website. Follow also on Twitter (@EU_opendata, @euinmyregion) with the hashtags #EUdatathon and #ideas4EU.
Watch the webinar on EMODnet data that was giving to the participants to help them develop their #ideas4EU!