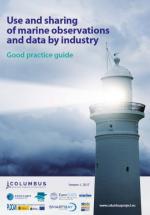 For some time, the private sector has been name checked by marine observatories and public data-sharing initiatives as a target-user of their resources and/or as a potential source of data, with little concomitant targeted development by these initiatives to facilitate this.
As EMODnet moves into Phase III of its development and focuses more on user uptake to achieve the objectives of the Marine Knowledge 2020 Strategy, a more pro-active approach is required to effectively engage industry, both as users and providers of data.
EMODnet partners (Seascape and VLIZ) have recently led the production of a 'good practice guide' to promote the sharing and re-use of marine data by business. This guide has been produced in the context of the H2020 COLUMBUS project, with partners  EuroGOOS, Marine South East, PLOCAN (EMODnet Associated Partner) and  SmartBay Ireland.
The good practice guide examines the common challenges faced by coastal and ocean observatories and public data-sharing initiatives, in terms of fostering better engagement with the private sector with the goal of improving the re-use of open marine data and information for economic development and innovation.
Recommendations are proposed that could support those initiatives aiming to deliver growth in the blue economy. These will be further elaborated in a joint EMODnet - COLUMBUS workshop at European Maritime Day.