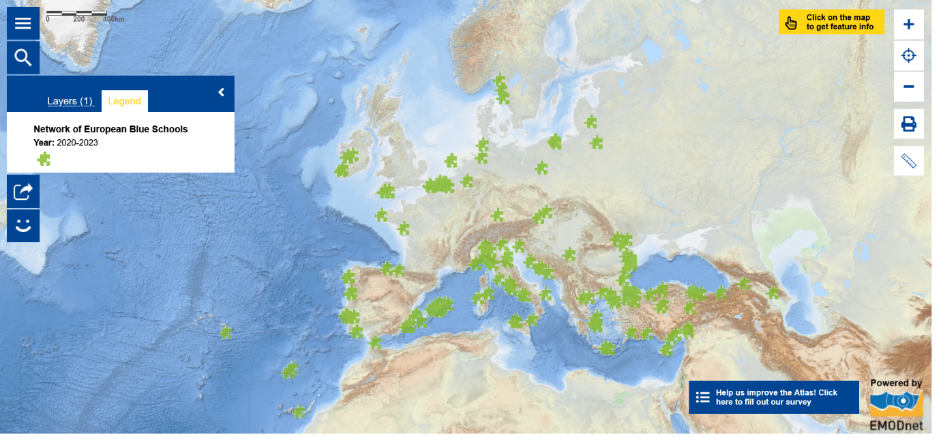 As the new school year starts, excitement is in the air! Students will discover new areas of interest, expand their knowledge, gain new skills and competences. It is a great time to meet new friends, start new projects and become involved in new activities. Will you bring the ocean into the classroom this year? Have you heard about the Network of European Blue Schools? This growing community now brings together 287 certified European Blue Schools across Europe and beyond who have developed a wide diversity of projects on many different marine topics. Explore the Map of the Week by clicking on the pieces of the puzzles to learn more about these schools and to discover their projects. The map has just been updated to include the newly certified schools. Congratulations to all of the schools involved! Keep up the good work!
Conjointly, the EU4Ocean Platform which brings together organisations and individuals engaged in Ocean Literacy initiatives throughout the European Union, the Youth4Ocean Forum for young ocean advocates aged between 16 and 30, and the Network of European Blue Schools form the EU4Ocean Coalition. What is Ocean Literacy, you ask? Ocean Literacy  means understanding how we influence the ocean and how the ocean influences us. This is crucial to living and acting sustainably. Supported by the European Commission, this bottom-up inclusive initiative aims at uniting the voices of Europeans to make the ocean a concern for everyone. By working together, members of the EU4Ocean Coalition contribute to strengthening the European Ocean Literacy Community and to the sustainable management of the Ocean.
We are keen to see new projects and ideas develop in the new school year! Would your school like to join the Network of European Blue Schools? Are you working on a project related to the Ocean? Get ready to apply to join the network or contact the facilitator of the Network of European Blue Schools at info@blueschools.eu for further details!
Wish to know more?
Search the online database of European Blue Schools by level of education and thematic categories.
Learn about the Charter for Blue Education.
Follow the Network of European Blue Schools on social media: #EUBlueSchools.
The data in this map are provided by the Network of European Blue Schools.