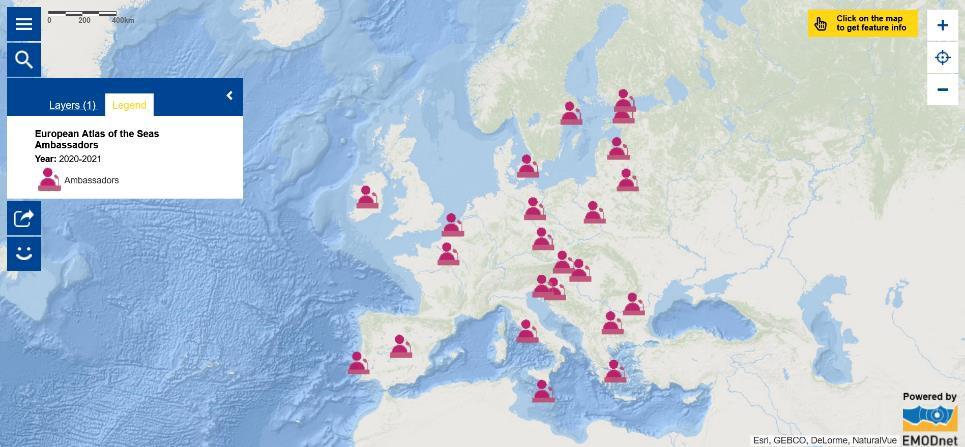 On 21 February, we celebrated the International Mother Language Day. This year's theme was "Using technology for multilingual learning: Challenges and opportunities", addressing the potential role of technology to advance multilingual education and support the development of quality teaching and learning for all. There are about 7,000 languages spoken around the world today. [1] UNESCO recently unveiled the World Atlas of Languages, an unprecedented initiative to preserve, revitalize and promote global linguistic diversity and multilingualism. International Mother Language Day was an opportunity to reflect on why mother language-based education is essential.
Did you know that the European Atlas of the Seas is available in 24 languages? The language can be set through the Atlas' menu. In this framework, a campaign was organized in 2020-2021 bringing together 24 ambassadors including Commissioner Virginijus Sinkevičius, Director-General for Maritime Affairs and Fisheries Charlina Vitcheva, European Commission Policy Officer Māris Stuļğis, representatives of public authorities in different European Union Member States, directors of institutes and of an aquarium, scientists, coordinators of NGOs, a surfer, a skipper, a diver and a Michelin Star Chef! With the Map of the Week, discover who the ambassadors are and read why the ocean is important according to them in their mother language and in English (click on each ambassador to read their quote). Note that the ambassadors are mapped according to the countries in which the language they represent is spoken. Take this opportunity to also look at map layers in other languages, a great way to learn new languages!
Wish to know more about the ocean and ocean literacy?
The data in this map are provided by the EMODnet Secretariat.
[1] https://www.unesco.org/en/articles/why-mother-language-based-education-essential