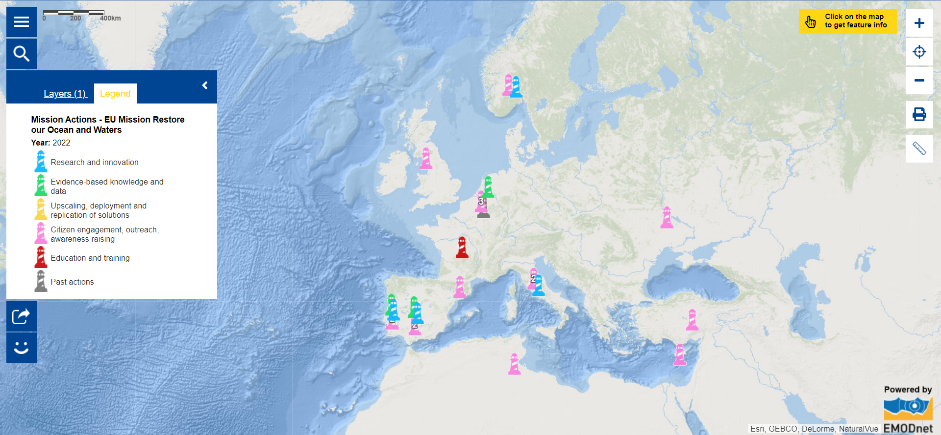 The United Nations Climate Change Conference - COP27  - is taking place in Sharm El-Sheikh in Egypt from 6 to 18 November 2022.  In his COP27 opening remarks, UN Climate Change Executive Secretary Simon Stiell stated "Paris gave us the agreement. Katowice and Glasgow gave us the plan. Sharm El-Sheikh shifts us to implementation. No one can be a mere passenger on this journey. This is the signal that times have changed". [1]  Throughout the conference, the European Commission will host over 125 side events  at the EU Pavilion in Sharm el-Sheikh and online. These events will address a broad range of climate-related issues, such as biodiversity protection and nature restoration, energy security and the green transition, sustainable finance, food and water security, and research and innovation. [2] The European Commission Directorate-General for Maritime Affairs and Fisheries (DG MARE) is involved in two side events: the launch of a new Blue Med Partnership and building a stronger Africa-Europe cooperation on ocean-climate action. [3] Many activities are taking place at the COP27 pavilions , some of which can be followed online.
The COP27 Virtual Ocean Pavilion  is dedicated to raising the visibility of the ocean and showcasing why the ocean matters in climate negotiations and to all life on our planet. Climate change is progressively impacting the well-being of the ocean, the planet's greatest carbon sink. The ocean absorbs excess heat and energy resulting from increasing greenhouse gas emissions. As this excess heat and energy warms the ocean, the change in temperature causes unprecedented cascading effects, including ice melt, sea level rise and marine heat waves. [4]  Increased CO2 emissions also cause ocean acidification. [5] These changes have a lasting impact on marine biodiversity and the lives and livelihoods of coastal communities. [4] The European Union is strongly engaged on this front. With Mission Restore our Ocean and Waters, it wants to achieve the following goals by 2030:
Protect and restore marine and freshwater ecosystems and biodiversity, in line with the EU Biodiversity Strategy 2030;
Prevent and eliminate pollution of our ocean, seas and waters, in line with the EU Action Plan Towards Zero Pollution for Air, Water and Soil;
Make the sustainable blue economy carbon-neutral and circular, in line with the proposed European Climate Law and the holistic vision enshrined in the Sustainable Blue Economy Strategy.
Wish to know more and stay informed about what the European Union and the World are doing to combat climate change and safeguard the environment?
Explore the Map of the Week and click on the lighthouses to learn more about Mission actions;
Visit the

COP27 Virtual Ocean Pavilion

  exhibit hall and enter the auditorium to participate in webinars and watch recording of past events;
The data in this map are provided by the European Commission.
[1]  https://unfccc.int/news/cop27-opening-remarks-by-the-un-climate-change-executive-secretary
[2] https://ec.europa.eu/commission/presscorner/detail/en/ip_22_6524
[3] https://oceans-and-fisheries.ec.europa.eu/news/eu-maritime-affairs-and-fisheries-cop27-2022-11-04_en
[4] https://www.un.org/en/climatechange/science/climate-issues/ocean
[5] https://marine.copernicus.eu/explainers/phenomena-threats/ocean-acidification