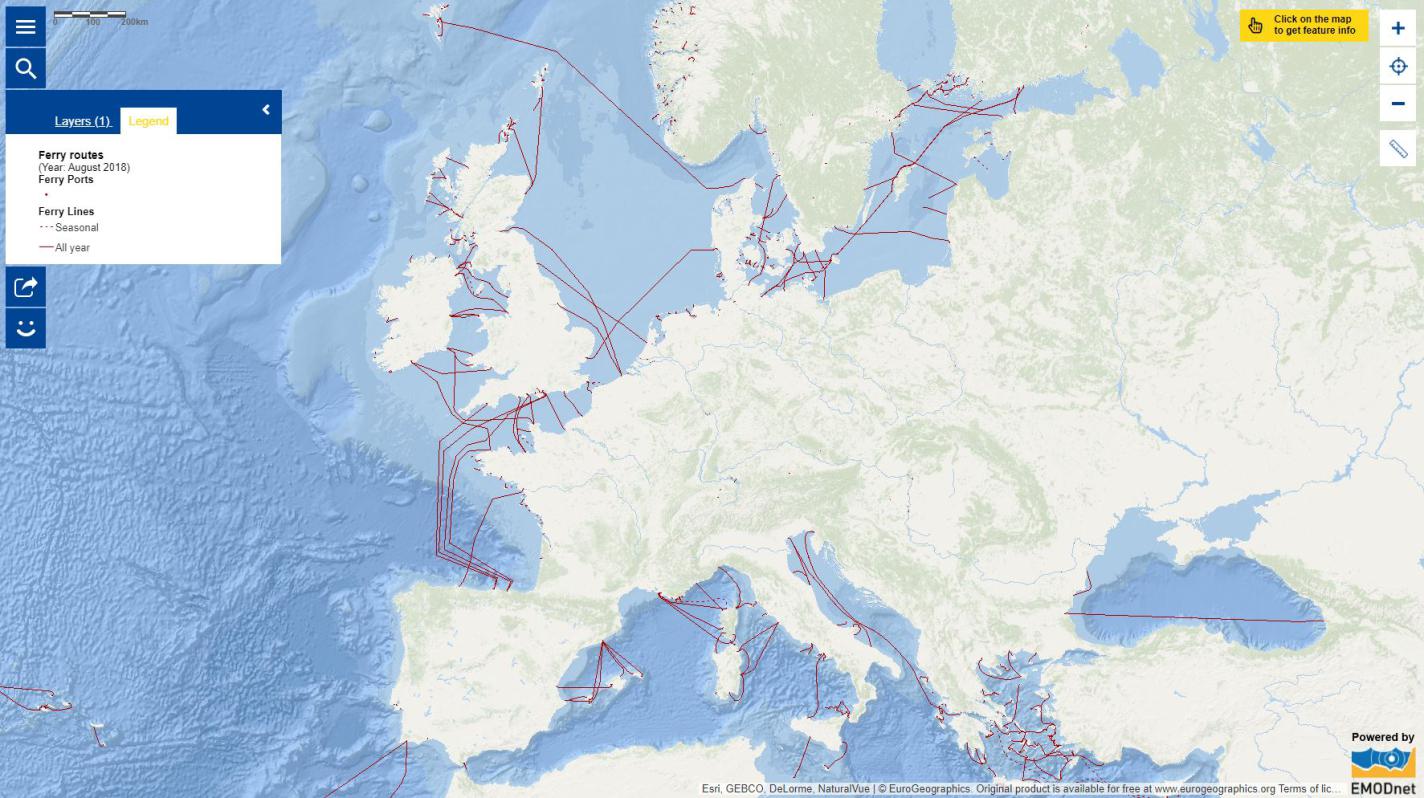 Europe's transport infrastructure, allowing people and goods to move efficiently, safely and sustainably, is vital to its economy and the prosperity of its citizens. In 2017, the EU's physical infrastructure counted over 217,000 kilometres of railways, 77,000 kilometres of motorways, 42,000 kilometres of inland waterways, 329 key seaports and 325 airports[1]. Ports and maritime transport are especially important as about a third of inter-EU goods exchange and up 90% of the EU's external freight trade is seaborne[2]. Furthermore, with more than 400 million yearly passengers embarking and disembarking in European ports and over 5,000 kilometres of European ferry routes, maritime transport also is a vital means of passenger traffic[2]. Good maritime transport services are especially important for the inhabitants of Europe's many islands, for example, the over 6,000 Greek islands. Our map of the week shows the active (all year and seasonal) European ferry routes.
With its Maritime Transport Policy, the European Commission wants to protect European citizens by preventing sub-standard shipping and ensuring the quality of the public maritime transport, by reducing the risk of serious maritime accidents and by avoiding piracy and terrorism threats. Furthermore, it aims to minimise the environmental impact of maritime transport and ensure safe working conditions for seafarers. Through the Motorways of the Seas (MoS), the maritime pillar of the Trans-European Transport Network (TEN-T) policy, the Commission aims to further improve the existing maritime infrastructure in order to increase access to markets throughout Europe and reduce the strain upon the already over-stretched European road systems. By improving the efficiency of the European transport system, the MoS also aims to contribute to greenhouse gas reductions, which is of paramount importance in addressing climate change.
The data in this map are provided by Eurogeographics.