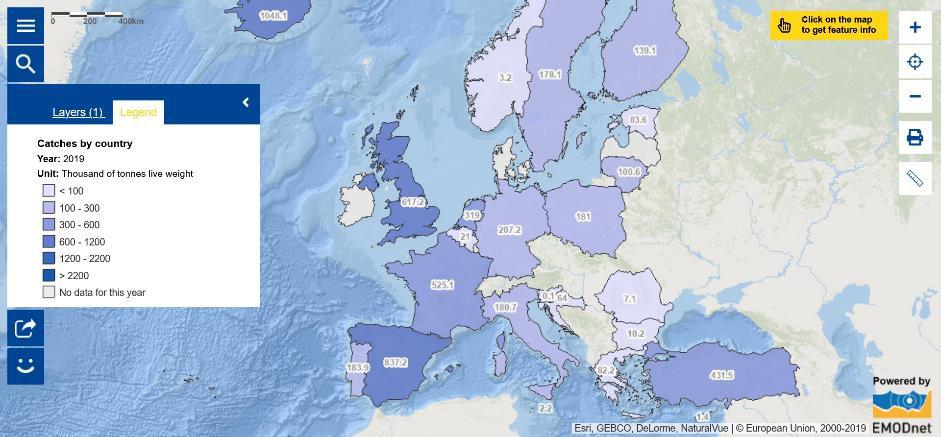 The European Climate, Infrastructure and Environment Executive Agency (CINEA) has published a new study on climate change and the Common Fisheries Policy that assesses the resilience of European Union (EU) commercial fisheries to climate change and looks into ways to reduce greenhouse gases emissions from the fishing sector. [1]  The authors of the study found that in order to anticipate and mitigate the effects of climate shocks, there is a need to move to more flexible and adaptive fisheries management. This could incorporate more precautionary approaches, such as fishing at the lower limits of FMSY (fishing mortality consistent with achieving Maximum Sustainable Yield (MSY)[2]) to reduce fishing mortality and absorb climate shocks when necessary. [1] Flexible quota allocation systems are also suggested. [1] Furthermore, the study emphasises the importance of considering ecosystem-based assessments in order to better anticipate changing stock conditions. Such assessments also provide a better understanding of the links with climate change, so that management measures can be adapted accordingly. This includes the regular updating of biological reference points to get an accurate picture of the state of fish stocks. [1]
The EU is the fifth largest fisheries and aquaculture producer worldwide, accounting for about 3% of global production. 78% of this production comes from fisheries and 22% from aquaculture. Fishers and fish farmers may join forces through producer organisations to make their production sustainable and to market their products efficiently. In 2021, there were 204 producer organisations across 18 EU Member States. [3] Dive into the Map of the Week to learn more about catches of fishery products by country in 2019 and click on countries to see how catches of fishery products have evolved between 2000 and 2019.
Did you know that the average person living in the EU consumes 24 kg (live weight) of fish or seafood per year? Consumption varies greatly across the EU - from 6 kg per person per year in Czechia to 59.9 kg in Portugal. 75% of the fish or seafood consumed in the EU comes from wild fisheries and 25% comes from aquaculture. [3]  Looking for information on the sustainable consumption of seafood products? Get advice from Mr.Goodfish !
The data in this map are provided by Eurostat .
[1] https://oceans-and-fisheries.ec.europa.eu/news/fisheries-new-study-assesses-resilience-eu-commercial-fisheries-climate-change-2022-10-07_en.
[2] https://www.ices.dk/lists/glossary/ices glossary.aspx#InplviewHashe4199c10-9657-46b2-bf8b-e7de42ff06a6=Paged%3DTRUE-p_Acronyms0%3DEuroPeche-p_ID%3D462-FolderCTID%3D0x012001-PageFirstRow%3D91   
[3] https://op.europa.eu/en/publication-detail/-/publication/c2f39f4a-29a2-11ed-975d-01aa75ed71a1