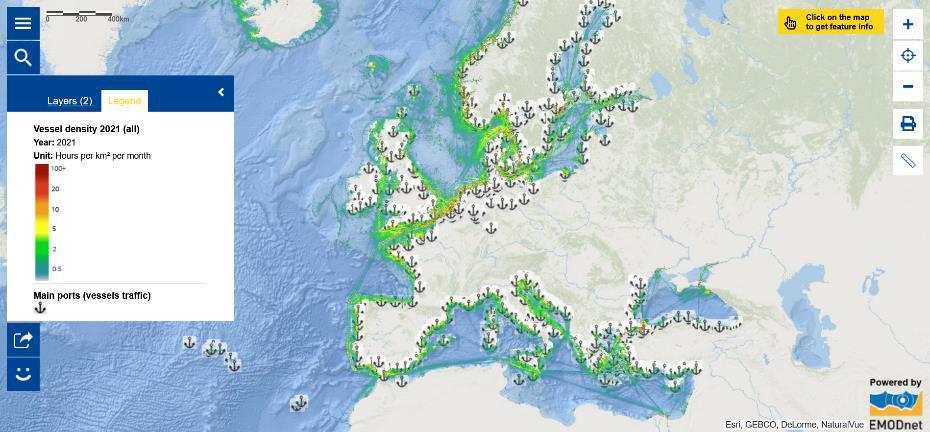 Europe's ports are vital gateways, linking its transport corridors to the rest of the world. Many Blue Economy sectors rely on them for fundamental infrastructure and services. With 75% of imported and exported goods and 31% of intra-EU transactions passing through them, seaports are critical to the EU's international and internal trade. [1] They also pose challenges (e.g. air pollution, greenhouse gas emissions, waste, noise pollution). Many ports across the European Union are reducing their environmental impact while also enabling green shipping fleets. [2]
The European seas are a major hub of maritime traffic. Knowledge of where the vessel traffic is taking place is pivotal for marine spatial planning and for assessing the impact of human activities on marine ecosystems.
Wish to learn more?
Explore the Map of the Week to learn more about ports in Europe and vessel density. Click on the ports to see their names. The vessel density in the map is expressed as the number of hours per month that ships spent in each square kilometre.
Watch the latest Ocean episode  from Euronews dedicated to ports.
The data in this map are provided by EMODnet.
[1] https://blue-economy-observatory.ec.europa.eu/eu-blue-economy-sectors/port-activities_en
[2] https://op.europa.eu/en/publication-detail/-/publication/156eecbd-d7eb-11ec-a95f-01aa75ed71a1