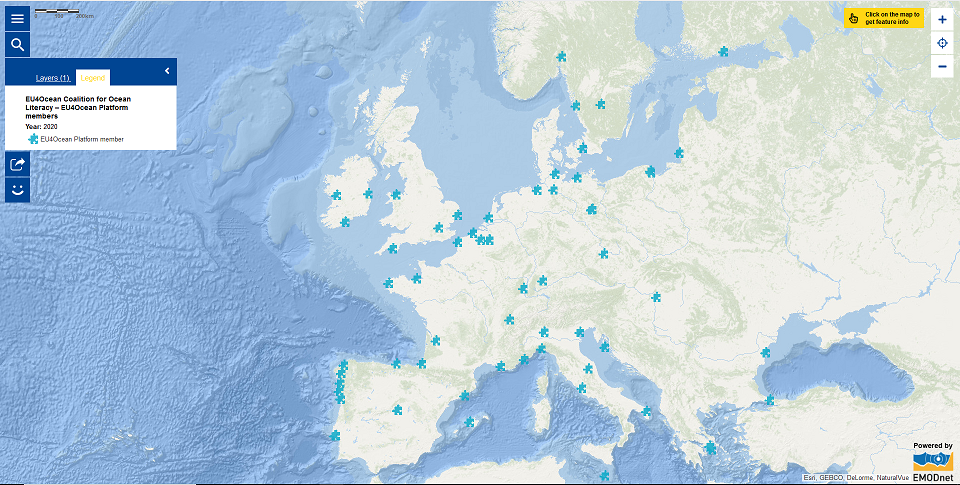 The EU4Ocean Platform is a component of the EU4Ocean Coalition for Ocean Literacy which was officially launched by the Commissioner for Environment, Oceans and Fisheries, Virginijus Sinkevičius, during the first international Virtual Ocean Literacy Summit on World Ocean Day (June 8, 2020). It connects diverse organisations, projects and people that contribute to ocean literacy and the sustainable management of the ocean and aims at uniting the voices of Europeans to make the ocean everyone's concern. In addition to the Platform, the EU4Ocean Coalition includes the Youth4Ocean Forum and Network of European Blue Schools.
Since its launch, more than 90 organisations, projects and people have joined the EU4Ocean Platform to share expertise, build partnerships and join forces to deliver a more coordinated approach to ocean literary activities in Europe. The EU4Ocean Platform brings together a wide diversity of stakeholders spanning the areas of marine research, science-policy, blue economy, civil society, arts, education, youth and media. Members span multiple scales, from local and national organisations to regional seas and European initiatives. Members of the Platform are exchanging ideas across 3 Thematic Working Groups which focus on Climate and Ocean, Food from the Ocean, and a Healthy and Clean Ocean.
Explore the Map of the week to discover who the members are, where they are located and what their field of work is. Zoom in the map to see which members are closer to you and make sure you come back to the map later as it will be updated every 2 weeks with new members! Interested by ocean literacy and not already a member? The EU4Ocean Platform is welcoming new applications! Apply here. Curious to learn more? Register for the first EU4Ocean workshop– Designing Ocean Literacy action in Europe which will take place online on 24 – 25 September 2020!
The data in this map are provided by the EU4Ocean Coalition for Ocean Literacy.