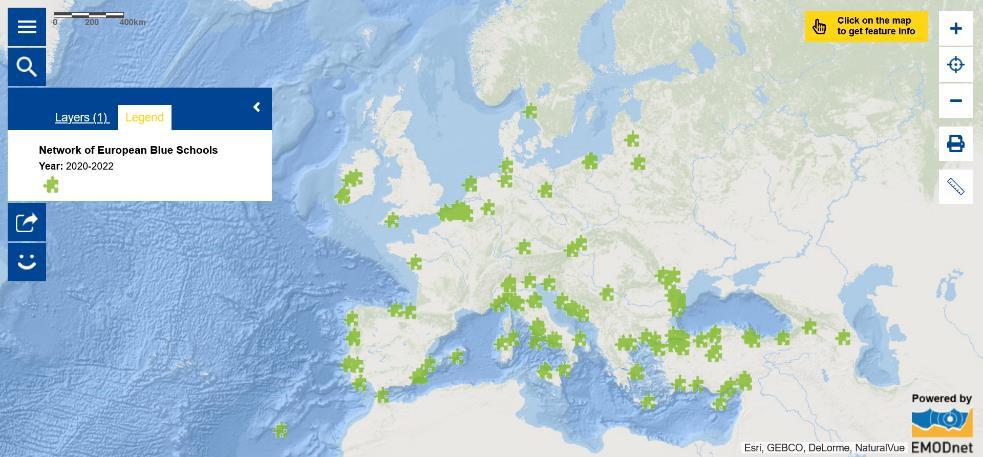 This week saw the beginning of the new school year. Will you be studying the ocean in the classroom this year? Have you heard about the Network of European Blue Schools? The Network of European Blue Schools is part of the EU4Ocean Coalition and aims to inspire teachers, school directors or staff of education services, to challenge their students, from kindergarten, primary, lower and upper secondary, technical or vocational schools, to 'Find the Blue' and develop a project that links them to the ocean or the sea. As the Map of the Week shows, a large number of schools from many countries have joined the Network of European Blue Schools over the past two years. Explore the map and click on the pieces of the puzzle to learn more about these schools and their projects!
Are you looking for ocean literacy resources that can help you bring the ocean in the classroom? Dive into
Do you wish to learn more about ocean literacy and/or find out how to develop new educational activities at school? Save the date for these upcoming events!
On 7 September 2022, take part in the online workshop organised by the Education for Climate Community and the European Atlas of the Seas on the Education for Climate challenge 'Be a scientist! Mapping climate change at seas & waterways. We will be discussing the co-creation of a new educational map around climate change in the European Atlas of the Seas. Join us!
On 25-28 September 2022, marine science educators from across Europe will be meeting at the European Marine Science Educators Association (EMSEA)

conference

  in Mallorca.
On 18-19 November 2022, the community of science educators will be meeting online for the

Scientix conference

  .
Enjoy your dive into the ocean!
The data in this map are provided by the Network of European Blue Schools.
Network of European Blue Schools