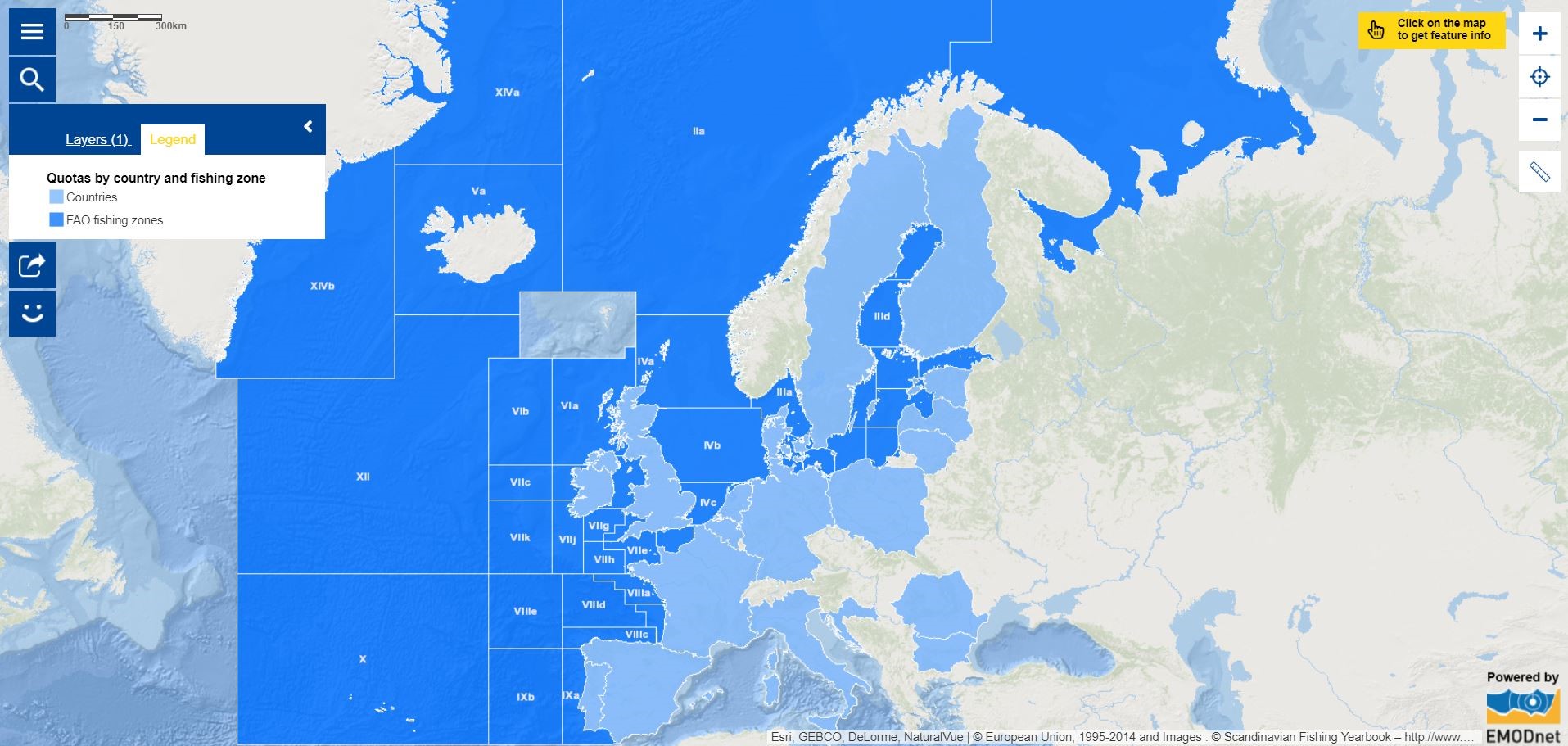 As it is an important source of protein and a crucial component of a healthy diet, fish is one of the all-time favourite dishes of Europeans. In 2018, the European Union caught over 5 million tonnes of fish, making it the fourth largest producer in the world1. Unfortunately, fish is not an abundant resource and many stocks are overfished, which means that more fish is caught than what the populations are able to regenerate.
In order to protect fish stocks and the marine environment as well as the fishermen and consumers that depend on them, the EU's Common Fisheries Policy sets sustainable catch limitations. These quotas are determined yearly (every two years for deep sea fish) based on stock assessments of the different fish species in the different fishing zones of the European waters, provided by the International Council for the Exploration of the Seas (ICES) and the Scientific, Technical and Economic Committee for Fisheries (STECF)2. The map of the week features the fisheries quotas (in tonnes) for the different fishing zones and for each of the EU Countries. Click on an area to find out how much fish of each species can sustainably be caught.
The European waters provide up to 79% of European fish catches while 13% is caught in the high seas and 8% is retrieved from the marine regions of non-EU countries3. However, also outside European waters, the EU ensures fisheries happen in a transparent and environmentally sustainable way through its sustainable fisheries partnership agreements (SFPAs). These are agreements with non-EU countries that allow EU vessels to catch the surplus of fish stocks in their exclusive economic zones in exchange for financial and technical support for the implementation and enforcement of sustainable fisheries policies. Find out more with the SFPA infographic of DG MARE.
The data in this map were provided by the European Commission.
1 https://ec.europa.eu/fisheries/sites/fisheries/files/docs/body/pcp_en.pdf
2 https://ec.europa.eu/fisheries/cfp/fishing_rules/tacs/
3 https://ec.europa.eu/fisheries/sites/fisheries/files/docs/body/2015-sfpa_en.pdf