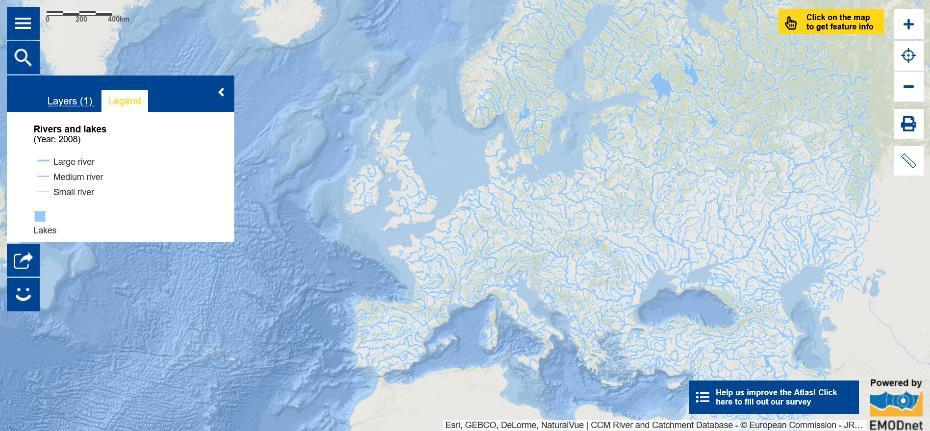 It is all about water! Next week, on 22 March, World Water Day  will focus on accelerating change to solve the water and sanitation crisis.  In 2015, the world committed to the 17 Sustainable Development Goals (SDGs) , amongst which SDG6 to ensure access to water and sanitation for all by 2030. However, we are currently not on track. At the current rates of progress, 1.6 billion people will lack safely managed drinking water, 2.8 billion people will lack safely managed sanitation, and 1.9 billion people will lack basic hand hygiene facilities in 2030. [1] On 22-24 March, the UN 2023 Water Conference  in New York will bring together national governments and stakeholders from all levels of society to commit to action to solve the water and sanitation crisis. The conference will launch the Water Action Agenda  which will include commitments from people around the world.
In view of these upcoming events, this week's map focuses on rivers and lakes. It shows the great importance of water in our environment, whether we live in coastal areas or inland. It also helps us visualise that Principle 6 of Ocean Literacy , which states that the ocean and humans are inextricably interconnected, concerns all of us wherever we are.
On World Water Day, the European Atlas of the Seas will be at the conference Join the Blue Schools  in Den Helder (The Netherlands). The event organised by the municipality of Den Helder, the Network of European Blue Schools and the European Marine Science Educators Association (EMSEA ) will bring together ocean experts and teachers. Participants will be able to discover a wealth of useful resources and best practices on marine education. The European Atlas of the Seas will organise a workshop to highlight how the Atlas' Teachers Corner and the new Atlas' pilot functionality 'My Maps' can be used to create new activities in the classroom. With 'My Maps', teachers can now create their own working space in the Atlas to develop customised activities such as exercises and quizzes.
Wish to know more? Looking for ways to better connect to the ocean and change the way you use, consume and manage water?
The data in this map are provided by the Joint Research Center (JRC).
[1] https://www.un.org/sustainabledevelopment/water-and-sanitation/
[2] https://www.unwater.org/water-facts/water-and-ecosystems