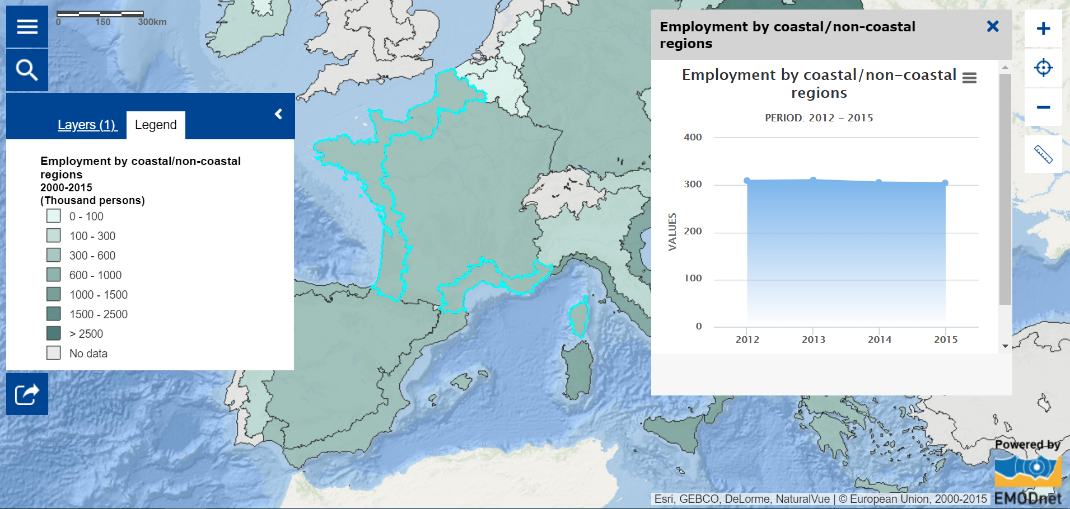 This week we continue our series about blue employment and careers by presenting a new map layer which compare employment in coastal vs non-coastal regions.
By looking at the map, we can see that Italy provides more job opportunities in coastal than in non-coastal regions. It is the same situation for countries like Spain, Estonia, Finland or Norway, according to the statistics available in the European Atlas of the Seas. However, countries like France, Belgium and Poland provide more employment opportunities for non-coastal citizens.
These different situations may have different causes, including the geographic location of the biggest cities of a country, but one thing is certain: generating € 174 billion of value added and creating jobs for nearly 3.5 million people (EU; 2018[1]), Europe's blue economy is considerable. This does not even take into account indirect employment which often takes place away from the coast.
With 400 million passengers who travel through EU ports every year, with 90% of international and 40% of internal EU trade that is maritime[2] and with jobs in the Europe's ocean renewable energy sector that are expected to double towards 2030[3], these are few examples of this blue growth.
In the coming years, the challenge will therefore be the sustainable development of the blue economy to ensure a blue growth that respects coastal populations and ecosystems. Let's discuss this fascinating subject in an upcoming Map of the week!
The data displayed in this map has been provided by Eurostat. 
---
[1] https://publications.europa.eu/en/publication-detail/-/publication/79299d10-8a35-11e8-ac6a-01aa75ed71a1
[3] https://ourocean2017.org/sites/default/files/investing-in-the-blue-economy_en.pdf