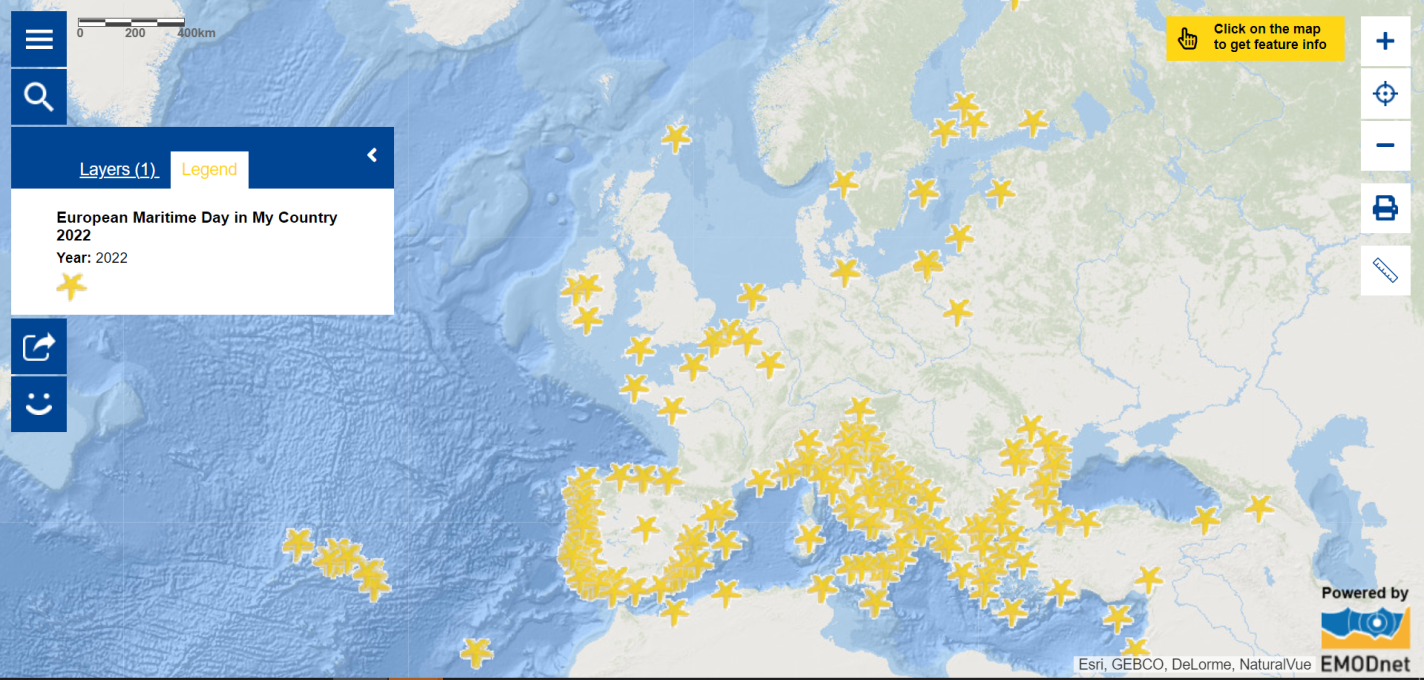 Last week from 19 to 20 May 2022, the European Maritime Day (EMD) conference took place in Ravenna, Italy. The EMD is the annual opportunity for the maritime community to come together to network, discuss and outline joint action and solutions on maritime affairs and sustainable blue economy. The focus of this year's exchanges, attracting more than 1,450 ocean stakeholders, was the contribution of a sustainable blue economy to a green recovery.[[1]] A key element of the 2022 EMD conference, was the EU4Ocean Summit organized by the EU4Ocean Coalition. The Summit was an opportunity to showcase and award the initiatives that best reflect the spirit and principles of the EU4Ocean Coalition, and that have mobilised very diverse representatives of the Coalition's various communities.[[2]] Check out the winners here!
Have you missed the EMD Conference? Some events related to the EMD are still happening! This week's Map of the Week focuses on EMD In My Country, a series of local related events which are organised across Europe, reaching out to young people and citizens under the 'EMD in my Country' label. EMD In My Country is an important part of the wave of ocean awareness and activism that has been rising steadily in recent years, and the events under its brand have become more and more popular, attracting more than 50,000 participants every year. Local activities such as beach clean-ups, guided tours of ports, art exhibitions, workshops, conferences, seminars, exhibitions on maritime themes, ocean literacy actions, eco-tours and walks in areas with significant maritime heritage, boat excursions, visits to maritime museums, ships, aquaria, shipyards etc., aim to engage a wide audience across Europe, with a 'fun and games' component directly appealing to a younger public. These activities enable the many European regions with a maritime culture to join in the celebrations and highlight the vital role of the seas and oceans for local communities.
 
Did you know that:
This map offers an overview of the EMD in my Country 2022 local events in 29 different countries (22 EU and 7 non-EU). Zoom in to find a local event in your country!
Many organisers also use their events to demonstrate the European Atlas of the Seas to students and pupils across the EU!
To make this map even more unique, we have hidden something special in it. Join the celebrations, explore the map and try to solve the EMD in My Country 2022 Boat Race.
The data in this map are provided by the European Commission.