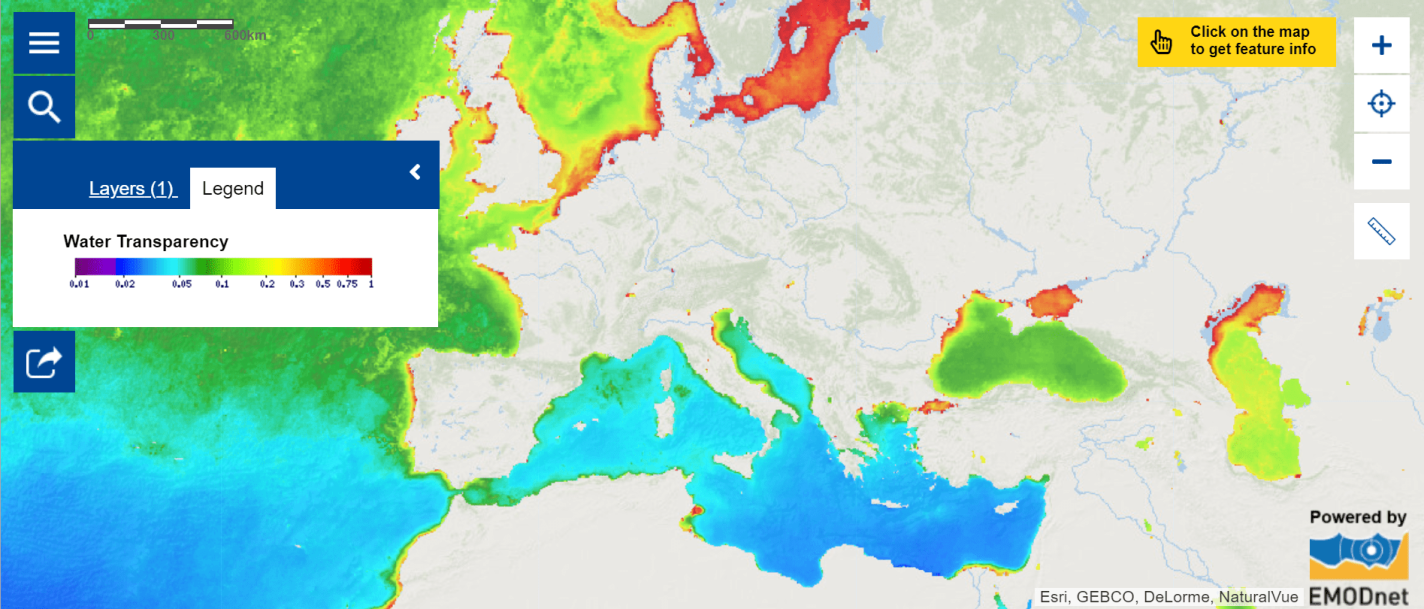 What does the sea near you look like? Is it more blue and transparent or is it muddy or murky? The European Atlas of the Seas' map on water transparency can be an interesting tool to identify the most idyllic seasides. It can also tell you a lot about the marine living in each sea-basin!
By looking at the map, you can see in one click that the water is more transparent in the Mediterranean Sea and darker in the north, like in the Baltic Sea or the North Sea. The level of transparency of a lake, sea or ocean depends on how deep the sunlight can penetrate in the water.
The water transparency depends on many factors, such as the presence of particles. The more material in the water, the less sunlight can penetrate through the water (lower transparency). Particles may be non-living, e.g. sediment from erosion or other dissolved material. Or particles may be living, e.g. phytoplankton, microscopic algae, which are the foundations of marine ecosystems.
Offshore industry can result in the seafloor being disturbed and more particles being suspended, making the water less penetrable for sunlight. Much of these human activities are close to the shore and this is one of the reasons why we can observe on this "Map of the week" that the water is less transparent near the coasts.
But watch out! Azure blue is not always good news for marine life. In fact, the Mediterranean (blue/green in the map) supports less phytoplankton and supports a far lower diversity of life than the North Sea (green/yellow) and Baltic Sea (red in the map).
Explore the map and compare the level of water transparency in different areas of the world.
Data displayed in this map were provided by the Joint Research Centre (JRC).