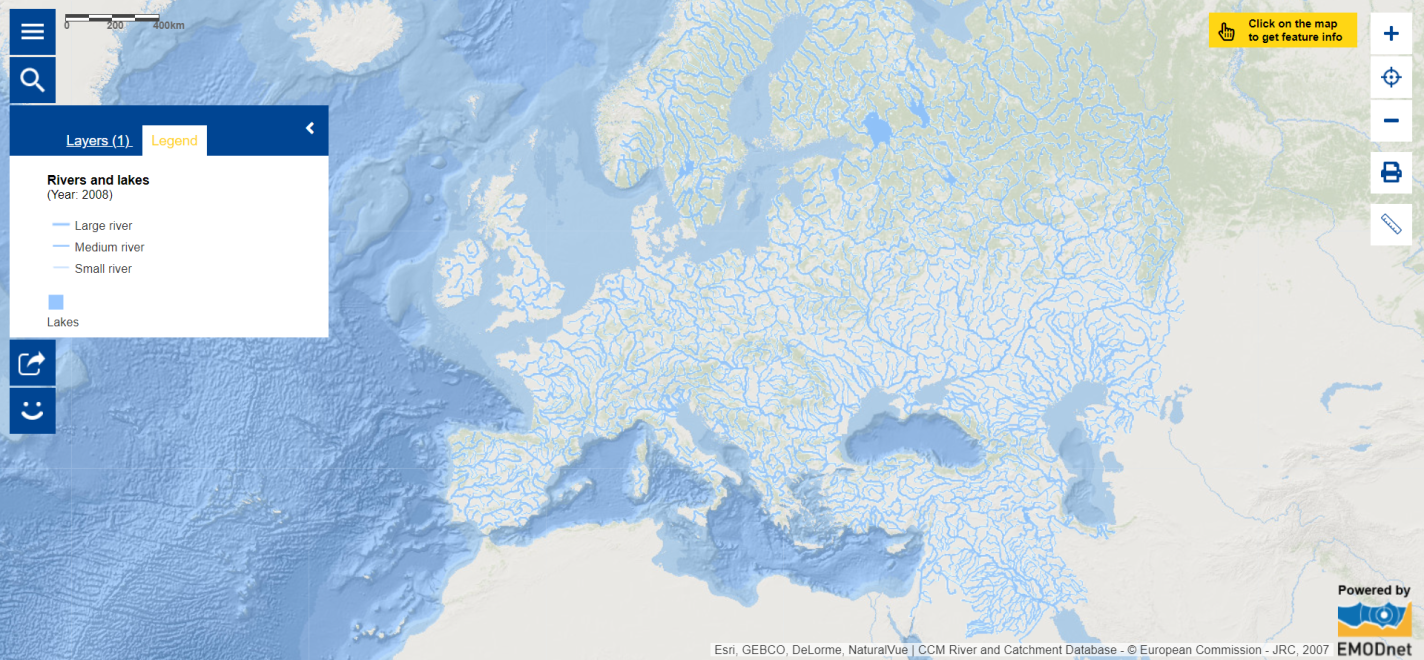 World Wetlands Day  is celebrated all over the world on February 2 and is dedicated to lagoons, ponds, lakes, marshes, resurgences [1]. These are the wetlands, key areas for biodiversity that provide vital ecosystem services to society. They are important water reserves and help defend communities from extreme weather events such as floods and droughts. The date of February 2 recalls the adoption of the homonymous convention for their protection, signed on February 2, 1971 in the Iranian city of Ramsar.
This year's theme is "It's Time for Wetlands Restoration" , which highlights the urgent need to prioritize wetland restoration [2]. A wetland is an area of land that is saturated with water. NOAA classifies wetlands into five general types: marine (ocean), estuarine (estuary), riverine (river), lacustrine (lake), and palustrine (marsh).
The Map of the week shows the main European rivers and lakes. Drainage networks and associated drainage basins form complex functional entities that are important, not only for hydrological processes, but also for environmental processes at large. This has been recognised in recent European legislation such as the Water Framework Directive (WFD). Rivers are the arteries of the landscape that connect and sustain diverse freshwater wetlands including lakes, inland deltas, swamps and marshes. Safeguarding and restoring healthy, resilient freshwater systems is key to achieving global goals for food, water, energy, peace and climate change [3].
Dive in and explore the Map of the Week!
Watch this video  where Dr. Musonda Mumba, Secretary General of the Convention on Wetlands, provides a special message of encouragement to mobilize all of society to help do their part for wetland restoration this World Wetlands Day. [4]
The data in this map are provided by EMODnet.
[1] https://www.worldwetlandsday.org/ 
[2] https://medwet.org/2023/01/world-wetlands-day-2023-its-time-to-wetland-restoration/#:~:text=%E2%80%9DIt's%20time%20to%20wetland%20restoration,revive%20and%20restore%20degraded%20wetlands.
[3] https://europe.wetlands.org/home/our-approach/water-stores-from-mountains-to-sea/rivers-and-lakes/