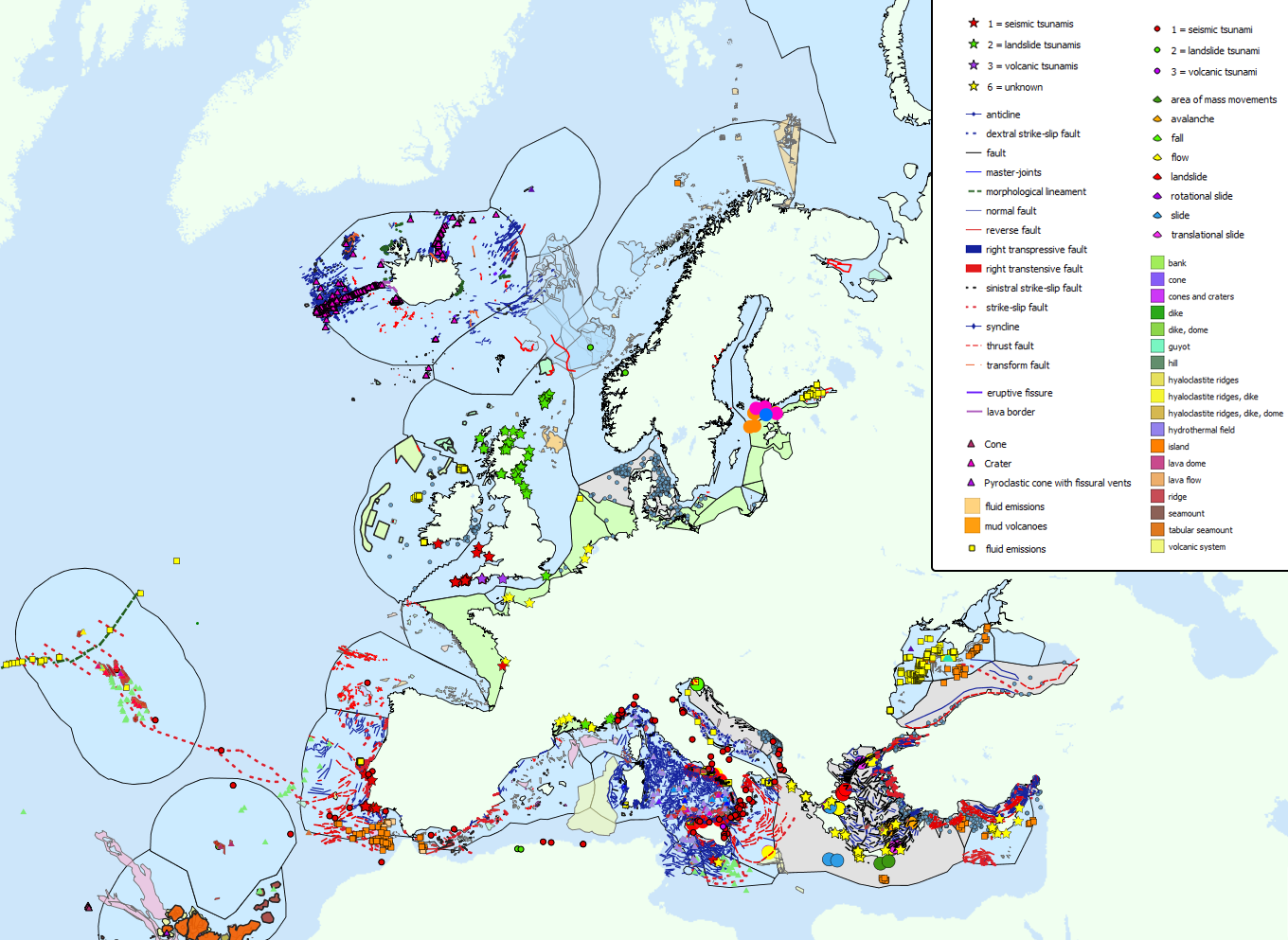 New datasets on "Geological Events and Probabilities" are now available on the EMODnet Geology Portal. The EMODnet Geology team responsible for the work package "Geological Events and Probabilities", led by Geological Survey of Italy – ISPRA, has realised broad ranging systematic mapping of Geological events and deposits they originated, detected in sea areas surrounding Europe. Data have been either directly acquired by Partners' surveys or obtained by cooperation with third parties or retrieved in the literature. Each EMODnet Geology Partner has validated final data regarding marine areas surrounding his country.
These datasets represent a systematic collection of harmonised data concerning geological events. The current update consists of 12 new GIS layers at a resolution of 1:100,000 scale concerning earthquakes, submarine landslides, volcanoes, tsunamis, fluid emissions and Quaternary tectonics, subdivided according to their geometry (polygons, points and lines). These products complement and update the 1:250,000 scale GIS layers already displayed on the Portal. They provide information on the type of events which have taken place in the past and might potentially occur again, including dimensions, state of activity, morphological type and lithology. 
The elaboration of guidelines to compile GIS layers was aimed at identifying parameters to be used to thoroughly characterise each event. Particular attention has been devoted to the definition of the Attribute tables in order to achieve the best degree of harmonisation and standardisation complying with the European INSPIRE Directive.
Shapefiles can be downloaded from the Portal and used locally in order to browse through the details of the different features, consulting their attribute tables. Information contained therein provide an inventory of available data which can be fruitfully applied in the management of coastal areas and support planning of further surveys. By combining the diverse information contained in the different layers, it might be possible to elaborate additional thematic maps which could support further research. Moreover, they potentially represent a useful tool to increase awareness of the hazards which might affect coastal areas.