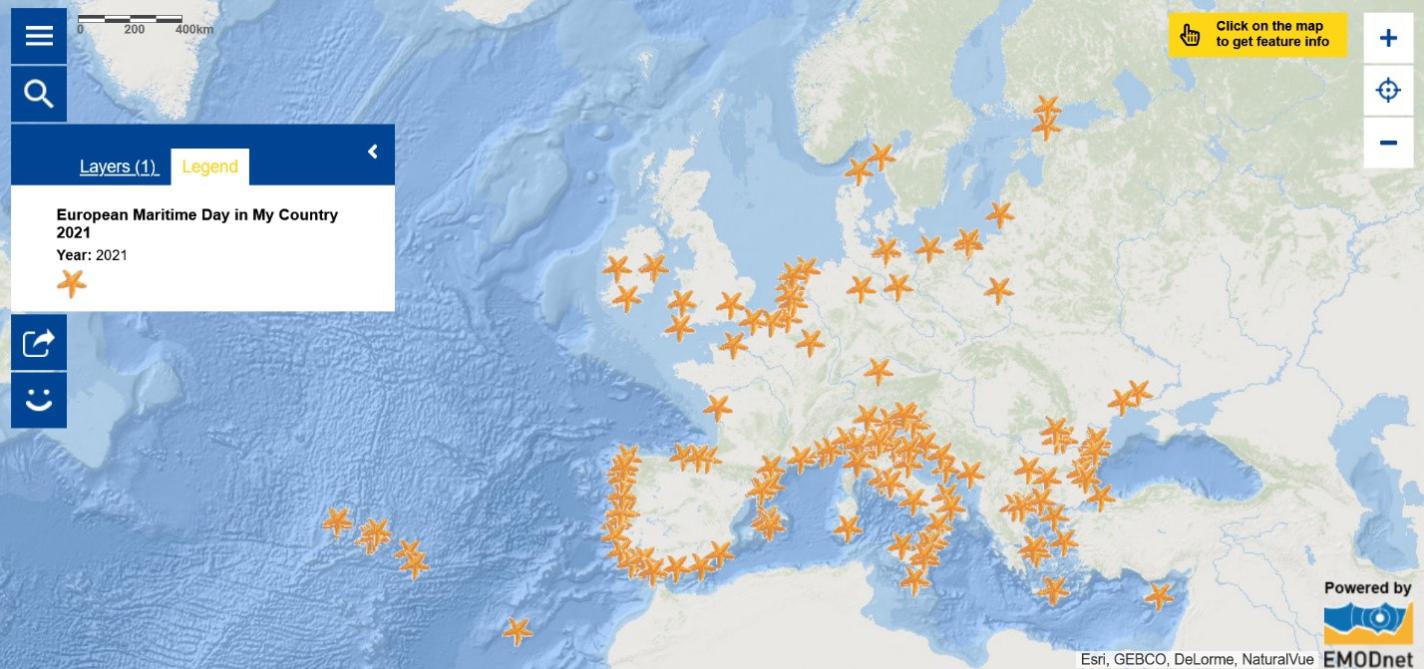 This year, the annual European Maritime Day (EMD) conference will take place in Den Helder, The Netherlands on 20-21 May 2021. On 20 May 2021, the European Atlas of the Seas will be presented in the online workshop 'Ocean literacy through visualisation and storytelling: local, regional and international examples' hosted by the Irish Ocean Literacy Network. The conference's programme includes many interesting sessions and workshops. Follow the conference on social media at #EMD2021.
In parallel to the conference, a series of local related events are organised across Europe, reaching out to young people and citizens under the 'EMD in my Country' label (#EMDinMyCountry). EMD In My Country is an important part of the wave of ocean awareness and activism that has been rising steadily in recent years, and the events under its brand have become more and more popular, attracting more than 30,000 participants every year. Local activities include beach clean-ups, guided tours of ports, art exhibitions, workshops, conferences, seminars, exhibitions on maritime themes, ocean literacy actions, eco-tours and walks in areas with significant maritime heritage, boat excursions, visits to maritime museums, ships, aquaria, shipyards …  These activities are organized for a wide audience across Europe, with a 'fun and games' component directly appealing to a younger public. They enable the many European regions with a maritime culture to join in the celebrations and highlight the vital role of the seas and oceans for local societies. Due to COVID-19, EMD In My Country this year includes both virtual and, where possible, physical events. This information is included in the Map of the Week, click on the events to learn more!
To make the map of these events even more unique, we have hidden something special in it: a treasure! We have published a guide in the Atlas' Teachers Corner to help you find the treasure. Resolve the questions in the guide, travel through the European Atlas of the Seas and find the treasure! To get help, watch the new European Atlas of the Seas' video tutorial and learn how to use the tools in the Atlas. Happy treasure hunt!
The EMODnet Secretariat, which is managing the European Atlas of the Seas, is participating in EMD In My Country with a workshop in the Ocean Literacy festival organized by the EU4Ocean Coalition on 22 May 2021. During this workshop, we will be discussing the solution to the treasure hunt and – after finding the virtual treasure - we will be learning about the ocean's real-life treasure! Curious? Register for the workshop now!
Explore the map, join the celebrations, try to solve the EMD in My Country 2021 treasure hunt and join us for the workshop on Saturday 22 May!
The data in this map are provided by the European Commission.