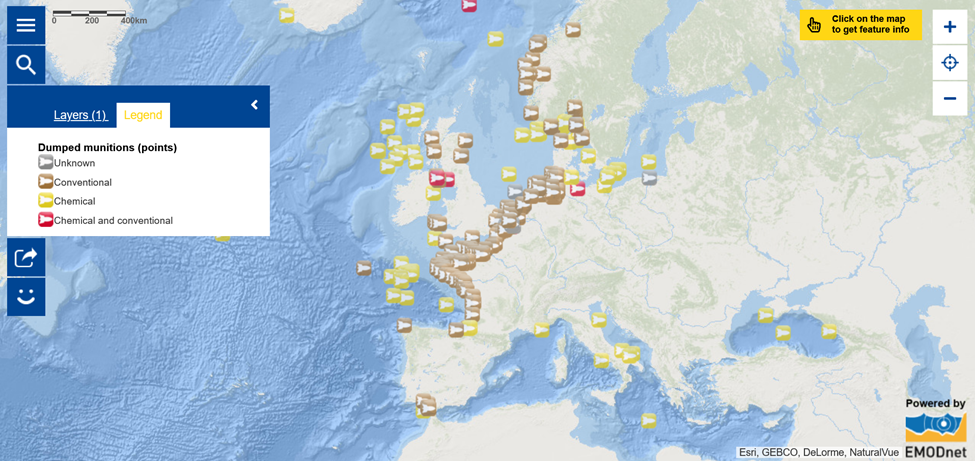 Munitions dumped on the seabed such as unexploded bombs, including chemical weapons that were dumped after World Wars I and II, represent a global source of concern. They pose a threat to the marine environment and human health. They represent a real challenge to blue economic activities and maritime spatial planning, not to mention the risks associated in removing those munitions and technical issues faced in the disposal.
The OSPAR Commission dedicated to the protection and conservation of the North-East Atlantic and its resources points out that the decision to permit marine-based activities (e.g. sand and gravel extraction, pipe and cable laying and windfarm construction) should consider information about the location of known dumpsites and the density of munitions encounters. Where appropriate, risk assessments should be carried out. [1] The Helsinki Commission (HELCOM) indicates that about 40,000 tonnes of chemical munitions were dumped into the Baltic Sea after the Second World War. [2] According to HELCOM, the risk of encountering sea-dumped munitions is increasing in view of the increasing utilization of the seafloor for economic purposes. In some areas in the southern Baltic Sea (Germany, Poland and Latvia), beach visitors are at risk of coming into contact with white phosphorus washed ashore which can cause severe burns and is highly toxic. [2]
The latest Euronews OCEAN episode addresses the issue of dumped munitions on the sea floor and presents projects which aim to test new methods and technologies to locate and map unexploded munitions on the seafloor as well as a software development centre working on the detection and identification of munition in our oceans. [3]
Explore the Map of the Week to learn more about the location of dumped munitions.
The data in this map are provided by EMODnet.
[1] https://www.ospar.org/work-areas/eiha/munitions
[2] https://helcom.fi/baltic-sea-trends/hazardous-subtances/sea-dumped-chemical-munitions/
[3] https://ec.europa.eu/oceans-and-fisheries/news/euronews-ocean-season-3-episode-5-ticking-environmental-time-bombs-lying-europes-seafloor-2021_en