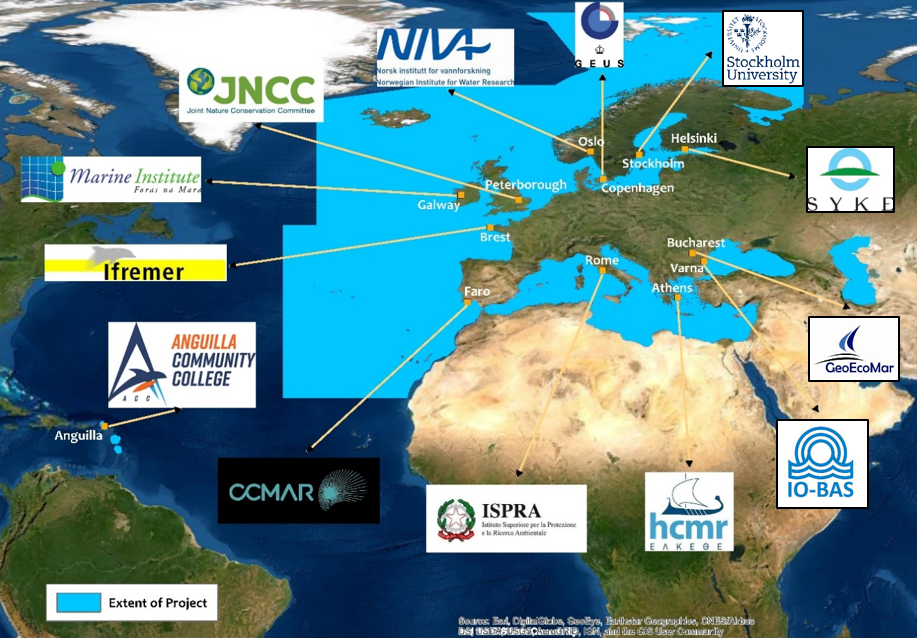 Phase IV of the EMODnet Seabed Habitats project commenced in September 2021, and will run for 2 years through to 2023. The project aims to build on the existing data products hosted on the EMODnet Seabed Habitats Map Viewer and expand geographical coverage of the project to the Caspian Sea and selected EU territories in the Caribbean (Anguilla, Sint Maarten, Guadeloupe and Martinique).
Phase IV will deliver an update to the EMODnet Seabed Habitats broad-scale seabed habitat map for Europe (EUSeaMap), and extend its coverage into the Caspian and Caribbean Seas. This will require collation of existing environmental layers for the Caspian Sea and Caribbean territories, with development of new ones where necessary.
To deliver upon these ambitious targets, benthic survey data will be collated and used to find threshold values for classifying the environmental layers into ecologically-relevant classes for the determination of habitat types. These classified data layers, combined with the GEBCO DTM (500m resolution) and the expected delivery of full-coverage seabed substrate layer from EMODnet Geology, will inform the broad-scale seabed habitat map for these regions.
Upon completion, EMODnet Seabed Habitats Phase IV will also deliver a standardised library of local community maps of biocenoses, biotopes and habitats for Europe, the Caspian Sea and selected EU territories in the Caribbean, with detailed metadata and a dataset of collated points. Two new composite data products for Europe will be created: coastal wetland habitats showing the extent of this highly sensitive habitat within the project area, and essential fish habitats.
EMODnet Seabed Habitats outputs, datasets, and models can be used to inform effect monitoring of environmental change on the ecosystem and biodiversity in these regions.