River inputs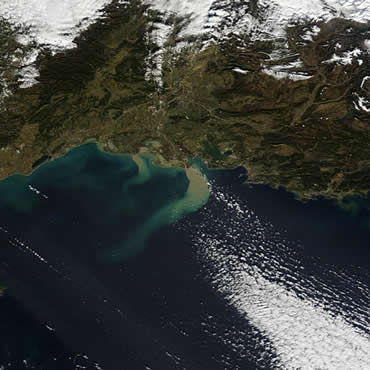 This challenge handled the ability to compute annual water discharges for each river bordering the sea basin, inputs of fresh water, sediment loading, total nitrogen and phosphates (time series),  to assess whether the available marine data sets that had been available and appropriate to the use case, as well as to indicate gaps in the EU data collection framework.
The River Inputs challenge attempted to estimate, for each river bordering the sea basin, the  time series of annual inputs:
Mass of fresh water discharged and temperature
Sediment load
Fluxes of total nitrogen and phosphates
Biota to sea as eels and salmon (both inwards and outwards, recruitment and escapement).
Nine different products were considered in order to provide an estimate of the amount of monitored rivers regarding the total number of rivers. (A river was defined by either by its river outlet (geographic position) or by the basin district, a region or a whole country).
ACRI-HE (lead), Ifremer, AZTI
| | | | | | |
| --- | --- | --- | --- | --- | --- |
| Product 1 - Annual temporal series and long term average of water discharge [m3/s] from in situ data (2005-2014), produced by ACRI-HE  | | | | | Score: Good |
| Product 2 - Annual temporal series and long term average of sediments loads [ton] from in situ data (2005-2014), produced by ACRI-HE  | | | |   | Score: Limited |
| Product 3 - Annual temporal series and long term average with errors of total nitrogen loads [ton] from in situ data (2005-2014), produced by ACRI-HE  | | | | | Score: Limited |
| Product 4 - Annual temporal series and long term average with errors of total phosphates loads [ton] from in situ data (2005-2014), produced by ACRI-HE  | | | | | Score: Limited |
| Product 5 - Annual temporal series and long term average of temperature [°C] from in situ data (2005-2014), produced by ACRI-HE  | | | | | Score: Limited |
| Product 6 - Annual temporal series of eel recruitment [ton] (2009-2014), produced by AZTI | | | |   | Score: Limited |
| Product 7 - Annual temporal series of eel escapement [ton] (2009-2014), produced by AZTI | | | |   | Score: Limited |
| Product 8 - Annual temporal series and long term average of salmon recruitment biomass [ton] (2005-2014), produced by ACRI-HE | | | Not created |   | Score: Inadequate |
| Product 9 - Annual temporal series and long term average of salmon escapement biomass [ton] (2005-2014), produced by ACRI-HE  | | | Not created |   | Score: Inadequate |