River inputs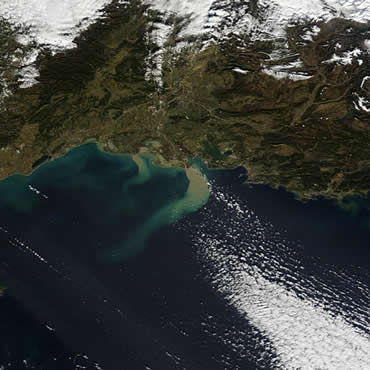 Objective
To map the extent and quality of publicly available data sources for discharge (Q), nutrient load (TN and TP), sediment and salmon for rivers with discharge to the Baltic Sea, and make this data available in a data service for the blue economy
Map the extent and quality of data sources for river inputs (discharge, sediment, nutrients and fish) to the Baltic Sea

Identify gaps in the currently available data

Explore various methods to fill these gaps including both alternative observation data sources and the use of existing simulated data to interpolate and extrapolate available data in both time and space

Report and advise on where effort could be spent to best improve current data availability

Presentation of data sources and analysed data made publicly available in collaboration with WP13 using internationally accepted data exchange protocols (e.g. water ML, WMS, WFS).
Several datasets of observations exist for the Baltic Sea riverine inputs and SMHI has experience with most of these and used them as a starting point. The following data sources have been identified as useful for the specific parameters listed:
Hydrological base network for Sweden (for which SMHI has responsibility)

Swedens Emissions Database (SMED)

Baltex Hydrological Data Centre – a database of river discharge to the Baltic Sea, managed by SMHI

The ICES (International Council of the Exploration of the Sea) dataset (older data for Nitrogen and Phosphorus)

GRDC (the Global Runoff Data Centre) – River discharge

EWA (European Water Archive) – River discharge

The Water Information System for Europe (WISE) – water quality data

The EC DCF (Data Collection Framework) – Joint Research Centre (JRC) fisheries data collection web site – Salmon

Smaller sub-regional programmes - Flow rates, Nitrogen and Phosphate

The Dataset of Continental River Loads at the University of Hamburg was also be used to provide more up-to-date data from the main continental rivers entering the Baltic (Nitrogen and Phosphate)

GemStat Global water quality database – water temperature, Nitrogen and Phosphate.
Participants
| | |
| --- | --- |
| Swdish Meteorological and Hydrological Institution | |