Oil Platform Leaks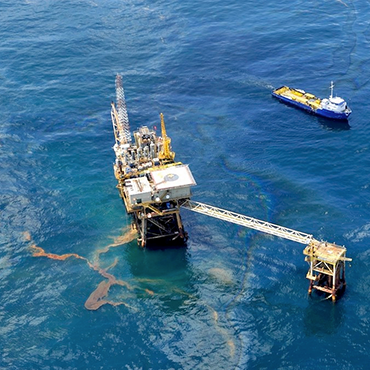 Objectives
The scope of challenge 3, 'Oil Platform Leaks' was to give rapid information on the oil movement and coastal impacts after a DG MARE request. The EMODNet Oil Platform Leak (OPL) Bulletin had been implemented in order to fulfill the scope.
To produce oil spill predictions for the whole Mediterranean Sea making use of well-established oil spill modelling systems from oceanographic national services, of existing oil spill monitoring platforms and environmental data;
To deliver an OPL-Bulletin within 24 hours from the time of receipt of an oil slick alert. The OPL-Bulletin contains information on the likely oil spill trajectory and the statistical likelihood that coastal habitats and coastal activities are impacted by the oil spill;
To contribute to the data collection framework for checkpoint information and report assessment results in the data adequacy reports.
Methodology
The OPL-Bulletin contained the forecast/scenario information on the fate and transport of the oil at that time. It used the most updated information on winds, currents and waves from operational oceanographic and meteorological forecasting models in the slick local area as well as a weekly forecast/scenario for the specific case.
To submit an oil slick alert, DG-MARE must complete an online request form with the specific input data:
Oil platform position (lat, lon)
Date and time of the leak
Depth of the leak
Type of oil (API or oil type name)
Rate of leakage or total amount of oil leaked
Duration of leakage
Forecast simulation length
Two oil transport and transformation models were used to produce the OPL-Bulletin:
MEDSLIK run by UCY http://www.oceanography.ucy.ac.cy/research/oil-spill-modeling/medslik/
MEDSLIK-II run by INGV http://medslikii.bo.ingv.it/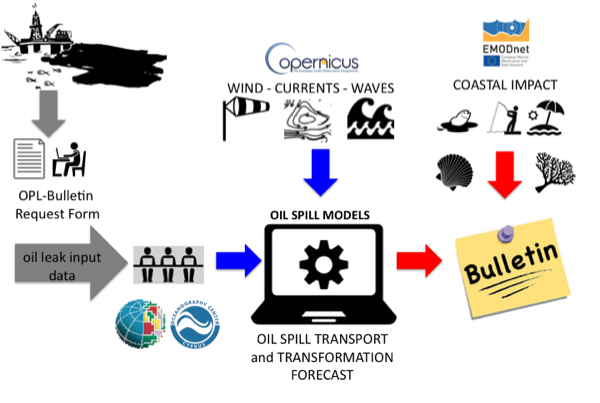 Data Sources
The production of the OPL-Bulletin relies on the availability of high-resolution meteo-oceanographic forecasts and analyses for the Mediterranean Sea (including winds, currents, Stokes drift and SST) provided through CMEMS (Copernicus Marine Environment Monitoring Service) portal and other national forecasting systems.
The input characteristics are:
Horizontal velocity of the water column (currents)
Temperature of the water column
Wind velocity components
Wave direction (not compulsory)
Additional data sets were required in order to evaluate the spill impacts. Layers of information from human activities, the Marine Protected Areas and the coastal habitats provided through EMODNet Human Activities portal were used. The input characteristics were:
Seabed substrate
Marine and coastal infrastructures
Mariculture
MPAs
Transport routes
Use of coastal areas
Targeted Products
Two Targeted Products had been produced:
MEDSEA_CH3_Product_1: OPL Bulletin was released after a DG MARE request, received by email on the 28th of July 2014, contained the notification of two oil leaks:
"The drillship "Magna Belgica" in the wider area of 'Caliph prospect' off the coast of Libya encountered a technical failure. A fire and crude oil leak began immediately. The spill was contained for the duration of 5 hours with a total of 50 tons crude oil loss at sea surface. After initial repairs the vessel set sail for inspection in Naples. Reaching the strait of Messina around 06:15 CET this morning, the drillship experienced engine and rudder failure leading to a collision with a cargo ship. The drillship was heavily damaged and lost a total load of 2000 tons of diesel fuel oil by 10:20 CET."
[collapse collapsed]
View details here
Table 1 summarizes the initial assumptions that have been made to predict the fate and transport of the two oil leaks. Four different scenarios (see Table 2) have been implemented to produce the OPL-Bulletin, considering different input data sets with different space-time resolution, forecast temporal horizon and update frequency.
SPILL n.1: Caliph prospect
SPILL n.2: Messina Strait
Oil drillship position

LAT = 33° 13.58' N

LON= 15° 54.30' E

LAT = 38° 14.84' N

LON = 15° 37.94' E

Start date and time (UTC) of the leak
27th of July 2014 at 05:05:45
28th of July between 06:15:00 and 10:20:00
Type of oil

Crude oil

API 26 (SCENARIO 1)

API 33 (SCENARIO 2-3-4)

Diesel fuel oil

API 40 (SCENARIO 1)

API 33 (SCENARIO 2-3-4)

Duration of spillage
5 hours
Oil spill from 6:15 up to 10:20 (4 hours)

Rate of spillage

10 tons/hour for an estimated
Total amount of oil spilled
50 Tons
2000 Tons
Table. 1 Initial assumptions made to predict the fate and transport of the two oil spills, the Caliph Prospect and the Messina Straight.
SCENARIO
1
2
3
4
Production Centre
INGV
UCY
UCY
UCY
Oil spill model
MEDSLIK II
MEDSLIK
MEDSLIK
MEDSLIK

WIND

temporal resolution

spatial resolution

days of forecast

update frequency

ECMWF
SKIRON
ECMWF
POSEIDON
6
1
24
1
25
5
25
5
5
10
10
5
1
1
1
1

CURRENTS and SST

temporal resolution

spatial resolution

days of forecast

update frequency

CMEMS
CMEMS
CMEMS
CMEMS
1
24
24
1
6.5
6.5
6.5
6.5
5
10
10
5
1
1
1
1

WAVES

temporal resolution

spatial resolution

days of forecast

update frequency

CYCOFOS
CYCOFOS
3
10
5
5
5
1
1
Table. 2 Prediction systems implemented to produce the OPL-Bulletin results.
Two reports were produced for the two spills separately considering the SCENARIO N.1 (see Table 2):
A third report was produced in parallel by OC-UCY containing predictions of the two spills considering three different scenarios (see Table 2 SCENARIO N.2, 3 and 4):
[/collapse]
Full description and quality information: http://dx.doi.org/10.12770/b5820518-46f9-403a-927e-88af1a215956
MEDSEA_CH3_Product_2: OPL Bulletin released after the DG MARE alert received by email on the 10th of May 2016 about the following situation:
"In August 2013 an incident occurred during a tanker loading operation at a buoy off the coast of the Sidi Kerir terminal of the Sumed pipeline (LAT: 31,130824; LON: 29,75227) with an estimated rate of 5000m3 Brent crude oil spilled during a period of 24 hours starting 8:15 CET on 13/08/2013. The accident went largely unattended in the aftermath of the 2013 Egyptian Coup d'état during a period of unrest and instability."
Full description and quality information: http://dx.doi.org/10.12770/8232a28b-04e3-49a1-871c-fda24b4490ca
This exercise was part of a stress test on marine data, launched on 10/05/2016, when all the Checkpoint Oil Leak Challenges were asked to assess the impact of simulated oil spills in six European sea basins. All of them managed to deliver assessments of the fate of the oil – dispersed, floating, evaporated, beached, despite the short notice. An overview of all spills can be found at the maritime forum web page here.
Final Challenge Report: MedSea Checkpoint Challenge 4 (Oil Platform Leak): Description of Targeted Products, the methodology and the expert evaluation of fitness for purpose
How to Cite: "Simoncelli, S., Zodiatis, G., & Pinardi, N. (2017). EMODnet MedSea CheckPoint Challenge 3 (Oil Platform Leaks) Report. European Marine Observation and Data Network. https://doi.org/10.25423/cmcc/medsea_checkpoint_challenge3"
Team Involved
Simona Simoncelli (INGV), Nadia Pinardi (INGV), George Zodiatis (OC-UCY)