SINDBAD+, is a project co-funded by the European Commission (POR FESR 2014-2020), that aims at the development of an advanced operational service to support navigation in the Ligurian Sea (Mediterranean Sea). The project is going to develop an ICT Service Infrastructure able to support tourist navigation providing innovative "intelligent" automation functions and developing ad-hoc services, accessible through smartphones, able to really help those who have to make decisions about how and where to conduct their boat to avoid any kind of risk and to ensure a good comfort. The ship-routing system integrates marine and atmospheric real time data in order to generate provisional maps of growing resolution in the areas below the coast. SINDBAD aims at providing a service that can predict weather conditions and analyse its consequences on the navigation depending on the characteristics of the boat such as length, width and depth. The service targets luxury and leisure boaters.
Tourist navigation and boating are usually excluded from this kind of high-end services, and the available traditional weather bulletins do not fully match this typology of users. The SINDBAD+ project seeks to bridge this gap by integrating high reliability data, models with high spatial and temporal resolution, in order to produce weather-marine forecasts for the target area, together with decision support system (DSS) procedures that are able to analyse the impact of these forecasts on different type of boats, thus leading to custom navigation operational suggestions.
The SINDBAD partners use EMODnet Physics and EMODnet Bathymetry to initiate and validate data forecast models.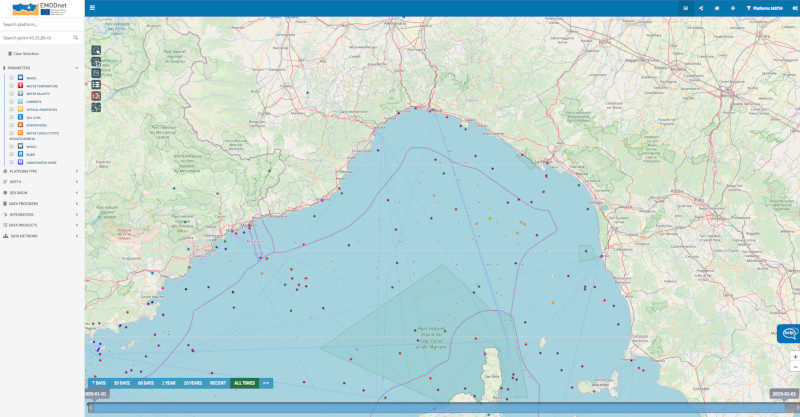 Oceanographic data platforms in the Ligurian Sea
About SINBAD+
The SINDBAD consortium comprises three SMEs and two research institute: ON AIR Srl, Xedum Srl, PM_TEN Srl, University of Genova – DICCA, CNR ISMAR. The partners have strong competences and long experience in the ICT sector.