The Copernicus Marine Environment Monitoring Service (CMEMS) In Situ Thematic Assembly Centre (In Situ TAC) is the component of the Copernicus Marine Service which ensures a consistent and reliable access to a range of in situ data for the purpose of service production and validation.
The In Situ TAC focuses its activity on collecting, quality control and distributing through CMEMS interfaces in situ products both in near real-time (24hours) for forecasting activities and in delayed mode (once or twice a year) for re-analysis activities. CMEMS viewing services are more targeted to gridded products and in situ was lacking efficient "easy to use" viewing service that would highlight the in situ product contents.
EMODnet Physics has, from its set-up, collaborated with CMEMS In Situ TAC (and relies on CMEMS In Situ TAC to collect a lot of the in situ observations available in real time). EMODnet has developed a user-friendly interface to view those data for its own users and developed widgets that have been updated to be used by CMEMS In Situ TAC to improve the viewing service developed for outreach and promotion activities.
The service is presently under test and should be switched into operations before the end 2018. It will allow a more user-friendly interface for the CMEMS in situ observation products. Discussions will be started with Mercator-Ocean International, the EU entrusted company for CMEMS to decide how the service will evolve in the future in partnership with EMODnet.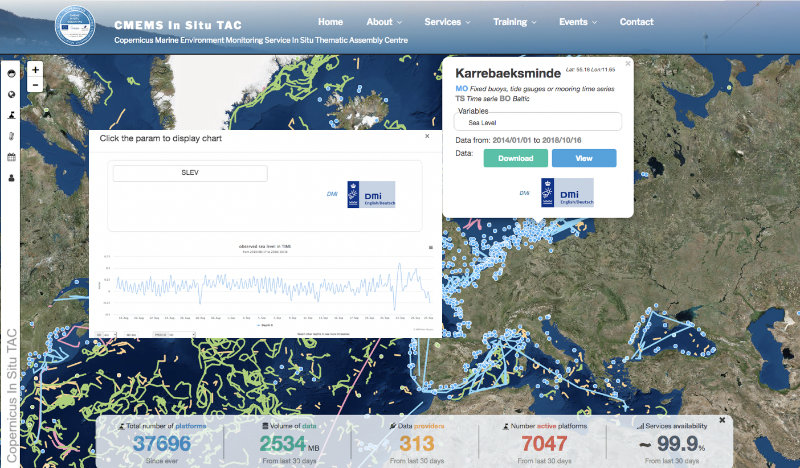 About the Copernicus Marine Environment Monitoring Service (CMEMS) In Situ Thematic Assembly Centre
The mission of the In Situ Thematic Centre (INS TAC) is to provide integrated in situ products built from in situ observations acquired from outside CMEMS data providers to fit the needs of CMEMS internal and external users. It is a distributed centre composed of 6 regional centres working closely with the EuroGOOS ROOS (Regional Operational Observing System) and a Global centre well connected to the JCOMM networks (Joint WMO-IOC Commission for Oceanography and Marine Meteorology). INS TAC also works closely with the SeaDataNet infrastructure that coordinates a network of European National Data Centres which archive observation data acquired within scientific campaign and EMODNet, which is a network of organisations supported by the EU's integrated maritime policy. More information here.