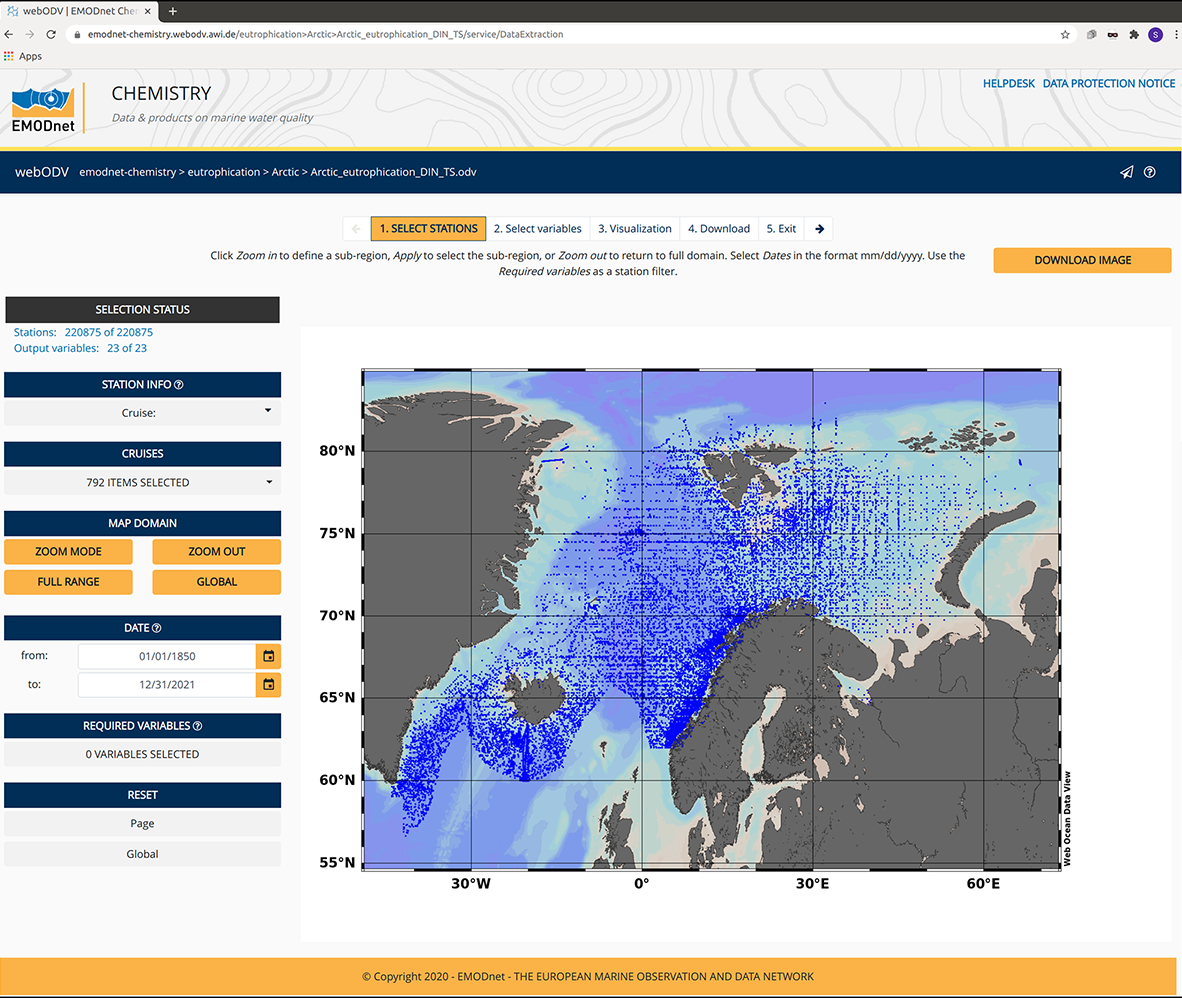 Download the press release in PDF
Our oceans are changing at a rapid pace. Waters are warming. Carbon concentrations are rising. Fertilizers and contaminants are finding their way into the sea, and litter is now found everywhere, not only along beaches, but also in the ocean interior and on the sea floor. Scientists all around the world are busy collecting data to document and understand these changes, and many international projects, such as EMODnet Chemistry, are working hard aggregating all the data into harmonized, global integrated datasets. These datasets are urgently needed to investigate the changes on regional and global scales.
Making these large datasets easily accessible to a wide user community, ranging from scientists on one side to decision makers, interested layman and the general public on the other, is a challenging task, but absolutely necessary to maximize the utility of the data and justify the immense costs of data acquisition and aggregation. The new online webODV tool, developed at the Alfred Wegener Institute in Bremerhaven, Germany - as a partner in EMODnet Chemistry, addresses this challenge and provides a huge step forward. 
This new online webODV tool further simplifies the access to the diverse data and data products in EMODnet Chemistry for scientists, policy makers and the public, and it increases the dissemination and usefulness of the European marine data.  
- Prof. Dr. Reiner Schlitzer, Alfred-Wegener-Institut, Bremerhaven, Germany
webODV provides fast and easy access to EMODnet Chemistry datasets, and seamlessly lets users explore, visualize and extract subsets of the data simply by using their web browser. No software installation or download of the sometimes very large datasets to the user's computer is necessary. webODV provides a truly interactive user experience and very fast response times, even if users and the webODV server are located on different continents. This is possible using the recent WebSocket technology that maintains a permanent, bi-directional connection between web browser and server and avoids the 'handshake and header' overhead of classical HTTP approaches.
EMODnet Chemistry dedicates huge efforts to collect, harmonise, validate data on water quality within all EU sea basins.  This new webODV tool is the powerful access key to the regional data collections and related visualization products on eutrophication. This service is integrated into the EMODnet Chemistry Portal, increasing its user friendliness and potentiality.
- Alessandra Giorgetti, Coordinator of EMODnet Chemistry,
Deputy director of OGS Section of Oceanography, Trieste, Italy.
The EMODnet Chemistry webODV service is available at
emodnet-chemistry.webodv.awi.de